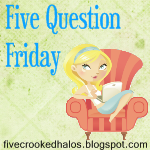 1. Do you have any nicknames and if so how did it come about?
Beenie: When I was young my sister use to call me co-bean (not sure where that came from) then it morphed into Beenie
2. What is your birth order amongst your siblings?
I'm the oldest


3. In a movie of your life, who would play your significant other?
That is a no brainier only because of the resemblance. Steven Seagal. However my husband said I should chose Johnny Depp.
4. What is currently your favorite song?
I am not much of a music person, so since I love to listen to my boys sing it I'm going to go with Billionaire. However I do love the song "I'm Yours" by Jason Mraz.
5. Are you saving your money for anything right now? Big or small purchase?
No, just trying to save to have some breathing room. With my daughter in VPK and no longer in daycare I'm hoping to start socking away a little for a raining day. However if I had too, I would purchase a new computer and go a family vacation.