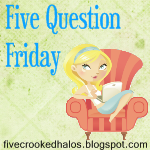 I'm so glad it is Friday, I contemplated taking a vacation day today and of course now I wish I had. If you haven't been by in a while check out some of my fun giveaways I'm hosting right now. Do you ever wonder where the 5 Questions on Friday come from? Well wonder no more, head on over to My Little Life each Thursday evening for a sneak peak at the questions and start your own 5 Question Friday Post.
1. How many pets do you have?
Well if you don't count my three children which can sometimes be debatable as I do recall wishing, feeding, and walking them at some point in their life. My son, not I has one pet. A pet turtle called Mr. Magic.
2. If you could switch places with anyone in the world for one day, who would it be?
Wow I've never thought of this before. I have to say occasionally on the weekends when I'm running around grocery shopping, cleaning, and doing laundry I wish I could trade places with my hubby who is sitting peacefully watching TV and playing video games. That is a very fleeting thought though because I LOVE being a woman. It would be fun to be a famous actress for a day.
3. What is your favorite money saving tip?
Send me a few and I will tell you my favorite! Truthfully I'm really not sure what my favorite tip would be or really if I even have any. I pre-shop usually before I go out. Gotta love the internet. I'm always looking for the best price I can get before I purchase.
4. What do you want your kids to be when they grow up?
Well of course I want them to be what makes them happy. Right now with their personalities and strengths I could see Buddy as an engineer (he wants to be a professional soccer player). Nicky as an athlete or actor (he definitely wants to be a star). Ericka I've always said should be a chef she LOVES to bake and mix ingredients and loves to be in the kitchen (she told me she wants to be a doctor).
5. What is your favorite quote?
"Everything happens for a reason!" My mom always says this and I agree 100%. I also like "Live today like there is no tomorrow"