Time for another edition of 5 Question Friday!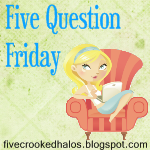 It has been a week of irritations, stress, and some great news in between! Look for updates soon.
Do you ever wonder where the 5 Questions on Friday come from? Well wonder no more, head on over to My Little Life each Thursday evening for a sneak peak at the questions and start your own 5 Question Friday Post
1. Do you regift…and if so, do you have a regifting horror story?
No I can't think of anything I've regifted.
2. Do you know what you are getting for Christmas this year?
Nope but I'm expecting some clothes from hubby would LOVE to get a new iPhone but just got a new car so not expecting the iPhone.
3. Who brings the most gifts in your family, you or Santa?
Definitely Santa, we usually only put the clothes from us
4. What store do you love to by jeans from?
Can't say that I have a favorite, but I LOVE my Miracle Jeans
5. Christmas meal: Big, All Out Meal or Snacks and Apps?
Both, but we look forward to the meal. My mom (who is a wonderful cook) makes prime rib and french onion soup YUM!