Time for another edition of 5 Question Friday!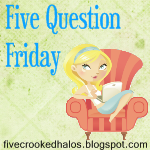 Happy New Year Everyone! I'm so sad that it is Friday because that means my LONG vacation is coming to an end. I have not been in the office since December 21st.
On a bright note I'm a Featured Blogger at Friendly Friday so stop by say Hi and meet some new friends.
Do you ever wonder where the 5 Questions on Friday come from? Well wonder no more, head on over to My Little Life each Thursday evening for a sneak peak at the questions and start your own 5 Question Friday Post
1. How long does your Christmas tree stay up?
I usually take it down on the 1st but this year with both of us on vacation we got it down a little earlier. All our Christmas decorations were down 12/29.
2. Do you have plans for New Year's Eve?
Yes, usually we don't it is not easy to find a babysitter and New Year's Eve is my hubby's birthday. This year we were invited to a kid friendly New Year's Eve party with one of my husband's good friends so we will be joining in.
3. Do you have any New Year's resolutions?
I don't make resolutions but reflect on the past year and what I want to change this year. My biggest changes are losing the rest of my weight and making my children more responsible for their actions as well as picking up after themselves a little more, as well as the same with me.
After reading a post by Allison about Living in the Moment I've also decided this is definitely a resolution, maybe not a new year or something with a deadline this is a resolution to remember each and every day.
4. How did you spend New Year's Eve when you were younger?
I actually can't recall many New Year's Eves. I know we always watched the ball drop and I remember a party my mom was having one year.
5. What was the best way you've ever spent New Year's Eve?
I don't know about best but the most memorable New Year's Eve for me was the year before my stepfather passed away. My sister called me after I was in bed (yes before 12) and said that she was at mom's and they were looking at old video and photos and maybe I should come join since it would be his last. Of course I jumped right up and went and it really was a bitter sweet New Year's Eve.