Time for another edition of 5 Question Friday!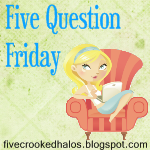 I am SOOO glad it is Friday, work has been extremely brutal these past few weeks.
Do you ever wonder where the 5 Questions on Friday come from? Well wonder no more, head on over to My Little Life each Thursday evening for a sneak peak at the questions and start your own 5 Question Friday Post
1. What's on the top of your holiday wish list and why?!
I really haven't thought much about what I myself wanted. I don't take a whole lot of time to do that. Right now with my mood I would SOO love a spa day. I'm usually practical I really need a new DVD player.
2. What is your favorite Christmas gift from the past?
When I was young it was a trampoline my mother and father bought for me and my sister. I don't really know what it is now. My sons one year gave me these cute little Knick Knacks that I have at work that I love. My husband does a great job of getting me gifts he is one of those guys that actually listens in daily conversations. He got me a dart board one year that I was not expecting and LOVED it.
3. If you had life to do over, what would you be when you grow up?
LOL funny I just posted about this yesterday. My first option would be a SAHM, I would love to be able to just be with my kids and get things done around the house. If that didn't pan out I would love to go into web/graphic designing.
4. When do you put up your tree?
It should have been up the weekend of Thanksgiving but I haven't yet done it this year so it will be this weekend.
5. What is your favorite Holiday?
I really do enjoy Halloween but Christmas is definitely just as equal in my book. Christmas is just such a fun holiday and has such great memories attached to it.