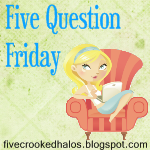 So I'm not at work today YIPEE! However I am running the kids to some appointments. Honey has a check up with the dentist and she says she is going to try to let the dentist brush her teeth this time. Nick is getting his braces on today ($$$$). Only the top for right now, he said he is excited and nervous. Never heard of a kid being excited about getting braces!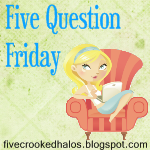 ---

1. Have you worn the same outfit more than one day in a row?
Not out, but I have at home. Those relaxing weekends when you don't get out of your jammies. Oh those are the BEST!
2. If you had to choose any LARGE city to live in, which would it be?
Well I haven't really been anywhere to experience much so I'm not sure. I LOVED when we went to Chicago and I would like to visit NY one day. However I do have to have my beach.
3. Fly or drive with the kids on vacation?
I HATE driving but I also like that there is no one else in the car versus a plane full of people. Flying is ok with the older kids that will veg out with the iPod and DS.


4. What is your idea of "spring cleaning"?
Someone else coming to clean my house!!


5. What is the best book you have ever read?
Oh wow this is way to hard. I love books. I'm totally Fiction. Love Twilight, Harry Potter, Sword of Truth, and many other authors.
Happy Friday Everyone!