Time for another edition of 5 Question Friday!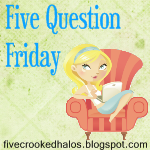 Wow it has been a week. I feel like my brain has just gone non stop. Lots to do at work, lots to do at home, and lots to do here at Shibley Smiles. On another note I did find out a couple weeks ago that my son needs braces, UGH those dreaded words that makes me see dollar signs. He was suppose to go to his first appointment this Friday but I've rescheduled due to a couple of things. So next Friday begins the braces process. He has decided he wants pink and black, that is my son!
Do you ever wonder where the 5 Questions on Friday come from? Well wonder no more, head on over to My Little Life each Thursday evening for a sneak peak at the questions and start your own 5 Question Friday Post.
1. Where did you meet your spouse and did you instantly know it was love?
I meant him at work. I wouldn't say it was instant love but definitely attraction. I actually had my friend see if he wanted to go out with us but he was working that night. Little did I know he and my friend set it up for another night.


2. What is your favorite room in your house?
I've actually never thought of it. I spend most of my time in the family room where the computer is but I guess I would have to say my own bedroom and bath. Big but comfy.


3. Can you wiggle your ears?
Sure with my fingers!


4. What is your evening ritual?
I'm not a structured person so I wouldn't see I have a ritual. It is usually finishing up on the computer and into bed. I usually wash my face and get ready for bed before that. I do usually come home and immediately put on my jammies or workout clothes.
5. How many hours of sleep do you need to function?
I can function for a few days on 5 but I would say 6 is pretty good. I can function on less when I'm working out and eating healthy.