Time for another edition of 5 Question Friday!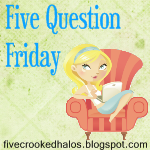 My Holiday Gift Guide just released so head over and enter some great giveaways, so far I have released a $100 Amazon Gift Card, $100 Think Geek Gift Card, and a Zoobie Pet.
I am super behind on blog reading and follow up. I hope you can forgive me I will definitely be hitting as many blogs as I can. I really miss ready and commenting on the wonderful blogs I try to keep up with.
Do you ever wonder where the 5 Questions on Friday come from? Well wonder no more, head on over to My Little Life each Thursday evening for a sneak peak at the questions and start your own 5 Question Friday Post
1. What is the most physically painful thing that has ever happened to you?
It would have to be the day I woke up at 2 am and could barely move, my whole back had locked up and I was in massive pain. I crawled out to the kitchen to try to get some medicine. My husband woke up and found me crying on the couch. It was Sunday and of course no doctor's offices were open. They suggested I got to the ER if I needed to but the thought of moving was just not something I thought I could do. It took them 9 months to finally diagnose a herniated disc which they recommended immediate surgery. I would have 10 babies before I would deal with that pain again!
2. How much sleep do you get at night?
About 6-7 hours on a good night, sometimes 5 if I stay up too late blogging.


3. How long did you believe in Santa Claus? How did you find out that he does not exist?
How funny I just happened to write a post about that here. I was in 1st grade I believe when I was told. I was told by a babysitter's daughter and was completely devastated.
4. What was the last movie you saw in a theater?
Eat, Pray, Love, it was alright I much preferred the move before Sex and the City 2
5. What do you wear to bed?
Usually pajamas or long night shirts, either way if my pajamas usually have pants or shorts I don't wear them to bed they drive me insane.
.