Time for another edition of 5 Question Friday!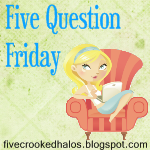 I'm exhausted just got home from a long day of work, trying to get up on Grey's and get a load of laundry done so hubby has something to wear to work tomorrow.
Do you ever wonder where the 5 Questions on Friday come from? Well wonder no more, head on over to My Little Life each Thursday evening for a sneak peak at the questions and start your own 5 Question Friday Post
1. What Christmas song do you loathe?
I might be too tired to think of one, but I love Christmas so not sure if there is one I don't like.
2. Do you and your significant other cuddle at night or sleep on opposite sides of the bed?
On opposite sides because of me. I just don't seem to be a cuddler, my hubby is not happy with that he is a cuddler.
3. Have you ever had surgery?
Yes, I've had neck surgery for a bulging disc.
4. When do you typically have your holiday shopping done?
I usually have it done by early December but I'm running very behind this year.


5. If money were not an issue (and you HAD to pick something), what would your ultimate luxury item be?
I want a fenced in house with a pool.
.