Time for another edition of 5 Question Friday!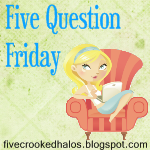 Oh my gosh, wasn't it just January last week? I can't believe it is October. I love October, why? Because i love Halloween it is one of my favorite holidays. I think it is because of all the creativity that goes into the holiday. As you can see by my holiday theme face lift I so get into the holidays. I would love to hear what you think of the design? It will only be up for the month of October of course!
Do you ever wonder where the 5 Questions on Friday come from? Well wonder no more, head on over to My Little Life each Thursday evening for a sneak peak at the questions and start your own 5 Question Friday Post.
1. Did you have a pen pal when you were little (or now)? Where were/are they from?
I know for a short time for a school project I may have had a pen pal. I mean I know I did. I have NO IDEA where they were from or what their name was.
2. If you could do a different job for one day, what would it be?
Oh it would be website designer, or anything in the digital design field. Computers are my passion, I love working with the programming and designing.
3. Do you remember your biggest fear from when you were little?
My biggest fear from when I was little is still my biggest fear today. Someone coming into my house while I'm at home. Though my fear has no extended to something happening to my children when I was little I had to have all the doors and windows locked. My father use to keep the sliding glass door open to get in the breeze so the only thing between the outdoors and the inside was a screen it drove me insane!
4. What do you think is a waste of time? Why?
Umm…this is another tough one, I'm sure if I was not put on the stop I could think of something. I can tell you I hate the time I spend in the car on the way to work. I hate waiting in line at Wal-Mart, and I hate waiting for the internet to download on slow computers LOL.
5. What is the oldest item you have in your closet?
Well that would be my stuffed animal from when I was a child I mentioned here on another 5 Question Friday. If we are talking clothing I do have the dress that my husband LOVES that he noticed me in at work oh about 15 years ago.