Time for another edition of 5 Question Friday!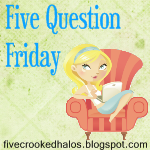 Do you ever wonder where the 5 Questions on Friday come from? Well wonder no more, head on over to My Little Life each Thursday evening for a sneak peak at the questions and start your own 5 Question Friday Post.
1. Who is the better cook, you or your spouse?
It would probably be my spouse if I could get him to actually cook. A cook I am not so it doesn't take much to be better then me.
2. How often do you talk to your mom?
Close to every day, sometimes by email.
3. Are you adventurous in the kitchen or stick to the recipe?
Expanding on question number one definitely stick to a recipe. I can't even imagine what something would taste like if I tried to my own concoction.


4. Is your second toe longer than your big toe?
If it is, it is just barely longer. They are close to being the same length.


5. Do you dress up for Halloween? (Bonus question: What will you be this year?)
Yes, sometimes just depends what is going on. Here is a photo from last year. Fortune Teller