Time for another edition of 5 Question Friday!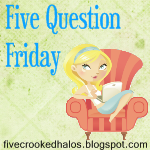 Another one bites the dust, Another one bites the dust. Yeah another one….ok I'm done it is a good thing you can't actually hear me you would leave before you even got to the questions. I'm happy that it is Friday and as usual our weekend is full of sports on fun. If you haven't yet noticed I've jumped on the Holiday Gift bandwagon. I hope to bring everyone some awesome giveaways and great gift ideas! Do you ever wonder where the 5 Questions on Friday come from? Well wonder no more, head on over to My Little Life each Thursday evening for a sneak peak at the questions and start your own 5 Question Friday Post.
1.
If you could speak with a different accent, what would it be (i.e Australian, Scottish)?
Oh I love Australian, they were just talking about this on the radio the other morning some condition where you can wake up speaking in a different language.
2. Can you fall asleep anywhere? (i.e floor, couch, deck)
I don't know about anywhere but definitely in the car, preferably while not driving.
3.
Do you use public restrooms? If so, do you sit on the toilet?
Yes I have never been a germ-a-phobic.
4.
If you were stuck in an elevator for 24 hours, what celebrity would you most want to be stuck with?
Oh geez do you go with eye candy, intelligence, man or woman? Ummm….this is a really tough one. I guess it would have to be someone funny to past the time but preferably a good looking man. Yikes maybe it is too late because I can't think of anyone off the top of my head.
5.
Where did you & your significant other go on your 1st date?
Well I met him at the bar. I had tried to get my friend to ask him to go to an amusement park with us but he had to work, little did I know she had then made plans for him to meet us another night for drinks. I don't know if this constitutes as a date but we will go with it since it is what I can remember.