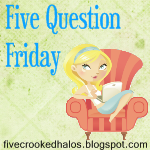 Yeah Friday! Friday! Friday! I have so much to do and so little time to do it. Look for some fun giveaways coming soon. While you are here check out my current giveaways. Today is the last day to enter my $50 Vintage Pearl Gift Card. You can also win a 16×20 Canvas Print or a $40 Gift Card to costumes4less.com. Do you ever wonder where the 5 Questions on Friday come from? Well wonder no more, head on over to My Little Life each Thursday evening for a sneak peak at the questions and start your own 5 Question Friday Post.
1. What do you do when you have time to yourself?
Right now it seems to be all about the blog. I've been trying to fit in more exercise in my life and hubby and I have been running after work. I love to go to the beach, take bubble baths, and read.
2. When you look out your kitchen window, what do you see?
My backyard that I so wish was fenced in so I didn't see the street and houses across the street. We live on a corner so our backyard does not butt up to a house but instead the road runs along side it.
3. Who/What would you want to be reincarnated as?
Umm…umm…this is a tough one. I really like who I am and have never thought about who or what else I would want to be other then RICH!!!!!!!!! Being Oprah might be fun for a day.
4. What is your biggest pet peeve about other people's kids?
As a mother I'm pleading the 5th since I have my own and don't want to know what pet peeves others have about mine.
5. Regular or Diet soda?
I prefer regular but I drink diet. Usually only Diet Mountain Dew.