eWelcome to Relax & Surf Sunday, with your hostesses The Life of Rylie…and Bryce too! and Shibley Smiles! This is a great blog hop for everyone to make new friends! You can find some new blogs to check out, and also get your blog out there and gain some new followers.
Here are the rules…Wait, there are no rules! That is the whole point behind "Relax & Surf". We just want you to relax, and surf around as much as you want to. You don't have to make a post. You don't have to post our button. You don't even have to follow us.
Of course we hope you like our blogs and will want to follow us, and we WILL follow back!
Just add your blog to our linky at the bottom of this post, and visit as many blogs as you would like to. If you decide to follow a new blog, make sure you leave them a comment so they will know you are following them.
Each week we will randomly select one blog from the previous week's entries to be our featured blog for that week. If that blog happens to be yours, you will get a cute little button to display on your blog, and you will also get the #3 spot for that week!
---
Our Featured Blogger this week is Heather at Mommy Only Has Two Hands!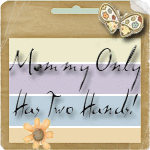 I was a former Newscast Director at my once local TV station before it was sold and my husband and I were laid off. I was eight weeks pregnant at the time. Its not as sad as it sounds though because my husband quickly got a job as an IT specialist at our local hospital, I became an office manager at a major distribution company one month later. I praise God during this economic time because we really needed this. However, shortly after having my son, my husband and I crunched the numbers, did the math, clipped the coupons and began a drastically different lifestyle so I could stay home with my son because it was my heart's desire. I currently am a caregiver for 2 other toddlers my son's age that I watch in my home for extra money. We get by, we don't eat out often or go on vacations, but we are perfectly happy and wouldn't have it any other way….at least for the next couple years. Would love for you all to stop by my blog and visit!
Heather
---
Link up below and have fun! Thanks for stopping by!
This linky will be posted every Saturday night at 9PM EST. Please link to your blog's main page only.