As an Amazon Associate I earn from qualifying purchases.


This post brought to you by Walmart. All opinions are 100% mine.
Its that time of the year when our hearts are a little softer and the giving a little more abundant. Walmart is in the giving spirit and needs your help deciding who should receive. Between now and November 18th you can help out a nonprofit organization in your community by nominating them for the 12 Days of Giving. Walmart will be giving away 1.5 million dollars in grants to benefit local communities across the country and provide basic need items like food, diapers, coats, baby formula, and other cold-weather clothing to those in need.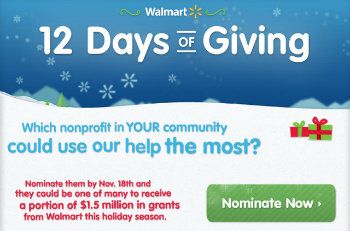 I just recently nominated a local nonprofit in my area "Little Smiles" . I love the purpose of this organization. "Little Smiles" is an organization that provides toys, games, DVD's, computers, VIP outings, celebrity meet and greets, concert, sporting event tickets, theme park tickets, fun food runs, nerf gun wars and much, much more…for children in local hospitals, hospices and shelters.
I have been blessed so far in my life to not be in need of their services. However I can only imagine how some of these children feel being couped up in a hospital, or even worse in hospices. Unable to enjoy the simple things like taking a walk outside, playing with their friends. Or children whos medical bills are so high that every penny is going to pay them leaving little left over for other important items or extras. I love that "Little Smiles" will come to the hopsital room and bascially act like big kids, watching movies, initiating nerf wars, and just putting a smile on the face of the children. After all we are pretty big on smiles around here!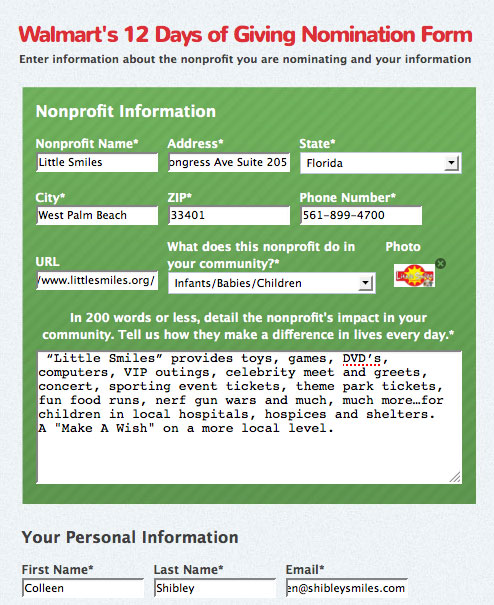 The form is very easy to fill out you will just need to have some key informatin about your nonprofit ready.
a) Nonprofit name
b) Nonprofit contact info
c) Nonprofit website
d) Photo (optional)
I had the website open along side my entry form and was able to easily transfer the information. I downloaded a photo so I could upload their logo as well. Once you submit your information you can share it on your facebook wall to encourage others to nominate.
I would love to know what local nonprofit organization you will nominate and if there is a special reason?