Do you ever wonder where the Five Questions on Friday come from? You can find them at My Little Life.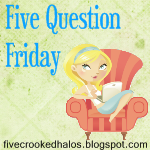 1. Have you ever had surgery?
Not sure if stitches count but I had them above my right eye when I was in 1st grade. I have had neck surgery about 7 years ago and have a metal plate in my neck. I have on occasion set off the metal detectors.
2. Ever ride in an ambulance?
Nope
3. How are you in a medical emergency? Panicked? Calm?
I believe I am pretty calm, my instincts take over to fix things.
4. Do you have a garden? Flowers or veggies?
Nope, I do not have a green thumb. I always wondered if those mats you can buy that you just lay out and water actually work.
5. When did you move out of your parents house?
I believe I was 18 maybe 19. I moved from VA to FL for a while and then moved back with them until they moved to OH and I stayed in VA (where I met my hubby)
Happy Friday Everyone!