Do you ever wonder where the Five Questions on Friday come from? You can find them at My Little Life.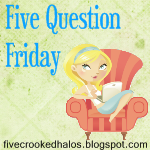 1. What is your favorite sign of spring?
The breezy weather, it is the perfect weather. It starts to warm up just a bit before the humidity smothers us. We only get a couple weeks of it but it is gorgeous. I am also a fan of the butterflies!
2. What was your best birthday ever?
Actually I'm going to go with this year 2011.  As you get older it seems your wants and needs shift to your family.  This year my family decorated the house for me and surprised me when I got home.  My daughter made me a folder full of drawings. My boys drew me a card, and my husband purchase a camera based on a comment one day that I didn't care for the one I had. Oh yeah and my mom and sister got me a spa day. On top of that my husband sent me an e-card at work. It was really the feeling of being loved and cared for that got me.
3. What is your favorite dessert?
Ice cream, I love Butter Pecan or Snickers!
4. What is the best excuse you've ever used to get out of a ticket?
I've never gotten out of one so please tell me the secret.
5. Do you wake up before your alarm, with your alarm, or after hitting snooze several times?
Usually with it or before it. I do hit snooze but I don't really sleep well during those intervals.