Do you ever wonder where the Five Questions on Friday come from? You can find them at My Little Life.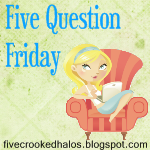 1. What is your favorite Easter tradition?
Easter has never been a big holiday so I'm going with eating my mom's ham, scalloped potatoes, and the only coleslaw I like!  I did unknowingly start a tradition with my children. The Easter bunny hides plastic eggs throughout the house for them to find each morning.
2. Are you a "shower" or a "long, hot bath" kind of person?
Both! I LOVE long hot baths but they are for relaxing at the end of the day. I shower to clean and bathe to relax.
3. Can you parallel park and if so when is the last time you did it?
I could if I had too but it would probably take ma quite a while to do it and I would be freaking out that I was holding up traffic so I probably would pass. I can't remember the last time I did.
4. What is your favorite Easter candy?
I love the Reese eggs, the big ones.
5. Easter: do you go all out with the Easter Bunny or focus on the religious part of the holiday?
As I mentioned above it is not a big holiday in our house, however if I had to chose shamefully it is more the Easter Bunny.