Do you ever wonder where the Five Questions on Friday come from? You can find them at My Little Life.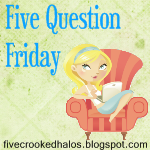 1. If you could change one thing about yourself what would it be?
Well I actually love myself the way I am. However to be fair to the question if I could change an appearance thing I would love to have honey-kissed skin always tan with less freckles. I also wish I was a little more romantic, I'm so practical that I tend to forget about romance.
2. Write about a time when you got lost.
I can't recall actually getting lost but I do often lose things, my keys, glasses, purse. I've lost my wallet and need to replace my SSN cards but I can't recall actually getting lost.
3. Camping or 5 star hotel?
I would probably prefer a 5 star hotel on the beach but I would really love to take my boys camping for the experience.
4. Have you donated blood?
Yes as 0+ I  have the best blood to donate I've been told.
5. Do you have a budget or do you 'fly by' most months?
I do have a budget that I try to stay within but I often don't follow it to a T.
Happy Friday Everyone!