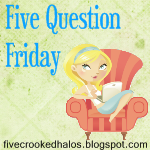 1. Have you ever visited another country?
The only country outside of the US I've visited is Canada. When I lived in Michigan we would go up to eat Mother's Pizza once in a while. I was also taken over their on my 18th birthday for some entertainment that shall remain nameless.
2. Where is the strangest place you have ever been?
Strangest place I've been? I could go with the nameless place above. Other than that I'm kinda drawing a blank.
3. What is your favorite season?
I love spring, it is the perfect weather. The whole 2 weeks of it we get in Florida are great. Not humid and hot with a small breeze in the air. Love Spring!
4. What one song will always cheer you up?
Umm…I am so not a music person but when I read this I think of the song "Dont' Worry Be Happy". Oh, but I love the song "I'm Yours" by Jason Mraz.
5. What Disney character do you resemble most?
Without a doubt GOOFY! Yep not only is he my favorite but I love to be goofy with my children. I wouldn't even come close to resembling any of the princesses that is so not my style.