This week seems to have been slow and fast at the same time. At work SLOW…T.G.I.F. At home I don't have enough time. Sports have kicked back in so my time is limited more then usual. I seriously can not believe it is the end of February in just a few days. I have thankfully started back on the right "eating" track and may just start back up with Tone It Up Tuesday but have not decided quite yet. I have some fun "diet trials" coming up as well that I'm anxious to share my progress as I work through them.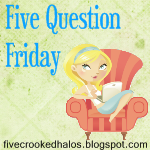 ---

1. Can you drive a stick shift?
I'm pretty sure I still can though it has been many years since I've needed too. My husband does not seem to be nearly as confident that I can. I tease him and tell him I'm going to take his Mustang out one day.
2. What are two foods you just can't eat?
This is an easy question. Number one above all most disgusting food is TOMATOES. I can't even stomach the smell. However I have no problems with food made with tomatoes. I hate whole tomatoes. I think for the second I'm going to go with beets. Does anyone remember the ice cream diet that included beets. UGH!
3. Do you buy Girl Scout Cookies? What is your favorite kind?
I love the Tag-a-logs or whatever they are called each year it seems to change. The chocolate ones filled with peanut butter.


4. How do you pamper yourself?
Something along the lines of a manicure, pedicure, facial, highlights, etc. I don't do it often enough. I would LOVE a spa day one day.


5. What is your nickname and how did you get it?
That would be Beenie. I believe it was derived from another nick name. Some how my sister started calling me Co-Bean and then it morphed into Beenie. I use to have that on my license plate in VA since they don't charge you an arm and a leg for a personalized plate. My stepfather use to call me Colon and my sister Semi-Colon.
Happy Friday Everyone!