Time for another edition of 5 Question Friday!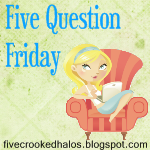 Do you ever wonder where the 5 Questions on Friday come from? Well wonder no more, head on over to My Little Life each Thursday evening for a sneak peak at the questions and start your own 5 Question Friday Post
1. What movie could you watch over and over again and not get tired of?
I can't say there is any movie. I'm not a big fan of watching movies more then twice. Same thing with books.


2. What's your biggest pet peeve right now?
Whining! My daughter says everything in a whiny voice and it is driving me crazy.
3. If you had to describe your best friend in five words or less, what would you say?
loyal, honest, trustworthy, dependable, fun
4. If you did not have to worry about money or go to school what would you do for a living?
I would do web design from home. I love to be creative, it is one thing I love about blogging.
5. What is your one "splurge" item, that you will always buy, no matter the cost?
I'm not sure if I have one of these? I don't splurge on a lot of things.