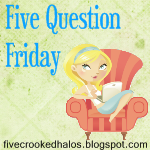 T.G.I.F is all I can say. It seems like this week has lasted forever! Today I will be leaving work at 12 to take my son to his first "braces" appointment, FUN, FUN, FUN! I have a lot to do this week, working on a blog design for a new and upcoming blog as well as trying to get one done here at Shibley Smiles. I also have to get my post ready for my "Love Is In The Air" Gift Basket that will begin February 1st. Just a few days left to get those extra entries in. Also wanted to mention that tonight is the last night to enter to win one of 2 Cinch! books by Cynthia Sass so if you have entered yet and you are interested stop on by and do that. Do you ever wonder where the 5 Questions on Friday come from? Well wonder no more, head on over to My Little Life each Thursday evening for a sneak peak at the questions and start your own 5 Question Friday Post.
---

1. If you had $1,000 to donate to a charity, which would you choose?
It would be to Cancer Research and Make A Wish or another children's charity. Both my grandmother and my stepfather passed of Cancer so that cause is dear to me as it is with so many and also it breaks my heart to see children so sick that I feel compelled to help out any charity I can that will help with research or make their lives just a little better.
2. Snow days: Do you welcome them happily or are they a pain in your butt?
You know I really can't say I've encountered a snow day since I was in elementary school. Now Hurricane days that is a different story. Of course they cause a mass panic and people ambush the stores and gas lines so they tend to be a little pain in the behind.


3. What talent did you wish you had and why?
I have always, always wanted to sing. I have no idea why I just envy those that can sing!


4. Are you a news, politics or celebrity gossip junkie?
Definitely would be celebrity gossip 100% I LOVE getting on People.com each day to see what is going on in the entertainment world.
5. What is your favorite "cocktail"? (Are you a beer person, a kiddie cocktail junkie, or perhaps your more the "Cosmo" kind?! Anything flies…doesn't hafta be alcoholic!)
I don't really drink much alcohol at all I think I still have some wine coolers in the fridge from LAST year's New Years Eve (my mom's wedding). If I do it has to be fruity. My favorite drink is some rich thick chocolate milk!
Happy Friday Everyone!