Time for another edition of 5 Question Friday!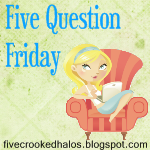 I hope your New Year is going well so far. I myself am extremely busy with ideas in my head and little time to execute them. 2011 is going to be my year I can feel it!
Do you ever wonder where the 5 Questions on Friday come from? Well wonder no more, head on over to My Little Life each Thursday evening for a sneak peak at the questions and start your own 5 Question Friday Post
1. What is your current favorite book, and why?
I am currently waiting for the next boo in the "Sword of Truth" series to come out. I believe it is scheduled for sometime in February. Though I'm reading Suze Orman and some fitness books when it comes to favorite books I prefer pure fiction and fantasy. My own escape!


2. Do you go to the dentist regularly?
Yes, though I have not done so in the past. In fact I'm just finished up with my last major work needed (root canal) and hopefully my last. It is much more cost effective to go regularly then not, trust me.
3. What is your worst memory from High School?
Umm….I can't think of one right of the bat. I guess if I am put on the spot with little time to think (because I forgot to get this post ready last night). I guess my memory would not be high school related but during that time. It would be my breakup with my long time boyfriend and then in the next weeks seeing a bubbly blonde run up and give him a big kiss and hug! (PUKE)


4. What do you hope to be remembered for in your life?
I hope that I am able to raise well mannered, accomplished children, and that they have memories of a wonderful childhood. Not too deep I know but my greatest accomplishments for me are my children.
5. Are you superstitious or do you have any superstitions?
No I don't believe I'm much of a superstitious person.