Do you ever wonder where the Five Questions on Friday come from? You can find them at My Little Life.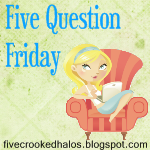 1. Do you know what your REAL hair color is?
Yes it is medium brown.  It is not to far from the color now. I usually color it to cover the grey's that seem to pop up more and more over the years. I look much better with darker hair then light.
2. Do you plan ahead for summer, or fly by the seat of your pants?
The summer is really no different the the rest of the year other then having to find daycare for my daughter.  We don't do vacations at that time so I guess we just go with the flow and plan as we go. We do try to go to the beach often.
3. What is your favorite meal to cook?
A pot of boiling water? Seriously folks I don't like to cook so there really isn't a favorite meal that I enjoy preparing or cooking. The best cooked meal is one that did not involve me in anyway.
4. Do you get offended by not receiving thank yous?
No not at all. I am terrible at sending them out myself, I do not expect them.
5. How did you meet your best friend?
Currently my best friend would be my husband who I met at work. However my best childhood girlfriend I met at school of course.
Happy Friday Everyone!