Do you ever wonder where the Five Questions on Friday come from? You can find them at My Little Life.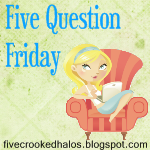 1. Have you ever testified in court? For what?
Well does traffic court count? In Virginia they made us go to court when someone rear ended me. I said it was an accident they said ok and we left. I was selected for jury duty ONCE and didn't even have to show up.
2. Do you still have your wedding dress?
Yep it is in the back of my closet. I might just be able to fit into it now. I thought about wearing it for Halloween one year. It is a simple but pretty dress that I paid $62 for.
3. Is there a special place you like to go when you're happy, sad, stressed, etc.?
Umm…not really I really love to go to the beach to relax. Other then that when I'm sad I like to be alone and sleep and with stress I usually end up in the kitchen.
4. If you have kids, do they sleep with you? If you don't have kids…will you let your kids sleep with you when/if you have them?
My daughter is all over the place. Sometimes it is a game to find her in the morning. If she falls to sleep quickly she will be in her own bed when we awake. If not you might find her on the floor of the boys room, in one of the boys bed, in her grandmothers bed or sometimes in between my husband and I. My boys are too big for any of that but they went through the same phase. It was never anything we had to break them of it was just a sporadic thing.
5. Do you watch late night TV?
I may sometimes watch TV late at night but I don't watch late night television. I have a handful of shows that I watch. I always DVR first and watch later, saves me at least 15 minutes of precious time.
Happy Friday Everyone!