Time for another edition of 5 Question Friday!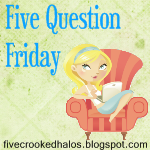 So glad it is the end of the week. Here in our area kids are out of school today for a teacher work day. Kinda wish I could stay home and join them. Have sports from 10 AM-3PM tomorrow so that will take up most of my time. Boys have a birthday party to go to Saturday evening so it will be me, honey, and hubby for most of the night. Will be veggie and watching a couple of my shows.
Do you ever wonder where the 5 Questions on Friday come from? Well wonder no more, head on over to My Little Life each Thursday evening for a sneak peak at the questions and start your own 5 Question Friday Post.
1. What is your favorite Halloween candy?
Going to go with good ole candy corn. I love candy so I would eat almost anything Twizzlers, Good n' Plenty, Sour Patch kids. I enjoy candy more then chocolate but for Halloween candy corn still takes the cake
2. Do you fold your socks?
No, well yes, depends on what you mean by fold. Yes we match them up and fold them I guess if that is what you call it. I then leave stranglers on the top of the washer if after a month there are still no matches they get tossed.


3. What is something that you wish you had been warned about?
How card it is to get out of debt. I wish I had known how important good credit is.
4. What is the most significant difference between you and your significant other?
My husband's favorite activity is watching TV I would prefer to do something, play a game, go somewhere, anything then sit and watch TV for lengths of time.
5. What are three words you would use to describe yourself? (And, just for fun…if your significant other is around, ask him/her what 3 words they would use to describe you!!)
Me: Happy, Caring, Intelligent
Hubby said: Content, Dedicated, Motherly