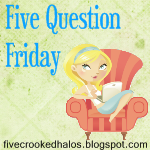 Everybody's working for the weekend! Sing it, you know you were singing it weren't you? Most of us are at work today unlike someone that shall remain nameless who owns a cute blog, and has two children one of which is having a birthday party this weekend. Ok never mind she isn't nameless, LeeAnn at The Life of Rylie…and Bryce too! is one of the lucky full time working mamas that gets every other Friday off and lucky for her it is this Friday with all the running around I'm sure she will be doing in preparation of Bryce's First Birthday Party. I can't wait for the party because Honey, Nick, hubby, and I are going on a road trip to visit my dear friend and party like a one year old! If you were wondering about Buddy he is 13 know you know and he has his own life to live, which includes a soccer game Saturday. He is staying behind with friends. Good Luck Buddy I hope you kick some soccer butt! Do you ever wonder where the 5 Questions on Friday come from? Well wonder no more, head on over to My Little Life each Thursday evening for a sneak peak at the questions and start your own 5 Question Friday Post.


1. Do you feel guilty spending money on yourself?
I won't say I feel guilty exactly. However I tend to by pass spending money on myself for something practical for the house or something fun or needed for the kids. I tend to only spend money on myself with the hem is falling out of my pants and my shoes look like they have been through a war.
2. How well do you know your neighbors?
Neighbors? We have neighbors? Oh those people to the right or is it left? It depends if you are looking at the house from the outside or inside looking out. Needless to say, I do not know my neighbors well. Though I did just meet the people that live behind us because their oldest boy and Nick are in the same class and all of them are running in between the houses all weekend.
3. What age are you looking forward to being?
I'm not looking forward I'm looking backwards because I get younger every day! Kids will either keep you young or age you terribly, or maybe it is a little of both! Seriously I'm not looking forward to any age, I tend to live in the moment at the age I am right now.
4. Do you get excited when the mail comes? Why?
Yes every day. Don't ask me why? Oh wait you did ask me why? I have no idea why I have always been excited to check the mail. I knew a girl that checked it once a week and I was just plain shocked. Now I'm excited because many days there is a fun new product to review!
5. What is your earliest childhood memory?
I can remember being in Kindergarten and getting ready for school. My stepfather protecting me when a little boy threw a bottle at my feet while I waited for the bus stop. I remember that awful looking green car my mom had a Pinto was it? Am I right on that mom?
Happy Friday all hope you have a wonderful weekend!