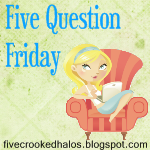 What a crazy week it has been from my diet testing fiasco to my first full week of sports. We have baseball and soccer practice on Monday, soccer practice on Tuesday, baseball practice on Wednesday, and baseball practice and soccer game on Saturday. I can't wait to post about the soccer game. I missed the first one since I was in Orlando but Buddy said they tied. I'm hoping this week to have some photos to post. My poor Buddy is so tiny next to many of the players since the age range is 13-16. Do you ever wonder where the 5 Questions on Friday come from? Well wonder no more, head on over to My Little Life each Thursday evening for a sneak peak at the questions and start your own 5 Question Friday Post.
1.
What is the first nightmare you remember?
I can't remember a specific nightmare but I can tell you that I have a condition called sleep paralysis which is very terrifying. You basically become conscious so to speak yet you are sleeping and you normally feel like you are in danger, that someone is in the room with you. The worse part is you are paralyzed or can't move because you are still sleeping. I literally have to calm myself down and concentrate every ounce of my energy on moving my toe or finger or something small. Usually once I can accomplish that I can move some more and I wake up and get out of bed so that I am fully awake. If I drift off to sleep to soon it will begin again. Seriously you can google this it is a condition and I still suffer from it occasionally.
2.
Even if you're not a sports fan, what's your favorite sport to play/watch?
My favorite is watching whatever my children are playing of course. However as far as professional goes FOOTBALL BABY!!!! I opened my football poll back up if you missed it. Go vote now!
3.
If you could pull off one piece of trendy fashion, what would you want it to be (leggings, hats, thigh high boots, etc.)?
Oh I love the idea of high thigh boots, I can do a few hats but I love boots though I don't own any decent ones since we don't wear them much here in Florida.
4. D
id you make good grades in school?
Most definitely A's and B's hear, thankfully my oldest son is following in my footsteps.
5. What magazines do you subscribe to?
My favorite that I am subscribed to right now is Woman's World. I also have Everyday with Rachel Ray, Woman's Day, Shape, and Health. (My son had a magazine fundraiser at school)