As an Amazon Associate I earn from qualifying purchases.


A haven't won any giveaways in like FOREVER. Well that might be because I haven't entered any in FOREVER.  However I have found myself occasionally entering a giveaway to support a friend.  I entered a CSN giveaway for $35 at The Domesticated Diva and forgot all about it.  At the beginning of February I got an email that I had WON.  How exciting isn't it? It is just so excited to win things no matter how big or small.  Now I've done my share of giveaways with CSN but have never purchased anything.  It is always so fun shopping with money that is  not coming out of your pocket.
I waited until February 28th the day before the gift code was to expire to do my shopping. I also waited until 11 pm to begin my shopping.  You would think it would be easy to spend money but I found myself wanting things way above the gift code amount and I really didn't want to spend any extra money.  I ended up getting something for myself, this Boomerang Pillow. (You can click the link to purchase at Amazon)

The price of the pillow is $19 and I LOVE it. It is suppose to be good for any position but my mother-in-law said she got it because it was good for side sleepers. What I love about the pillow is I just feel enveloped in pillow when I lay down. It is soft and perfect not to firm, not to soft. I put my head in the elbow so I have pillow behind me and in front of me.  I sleep on my side. It is just very comfortable and no flipping of the pillow is needed.  I've also seen the pillow used to place between your knees.  I personally still use both my body pillow and the boomerang pillow.
Ok so after I knew for sure I was getting the pillow I needed about $10 more dollars to get to my $35 (you have to add in shipping on top of the $19).  My first thought was to get something for the kids to play outside like horseshoes or croquet however there were no sets in my price range. After about 1/2 hour of searching my eyes lit up when I found the second item I purchased. Isn't it adorable?
My mother-in-law has been looking for something like this for Honey since her birthday back in November.  We even discussed the idea of making one ourselves using a blanket and velcro.  When the package came in Honey was VERY excited to see what I got her.  She absolutely adores it, as she has been asking for one forever.  She loves to imitate both her grandmother and I and we both have adult versions of this to use when we get out of the shower.  I was so excited to find her a cute pink one and I love that it has straps to help keep it on her shoulders.  When it came in she immediately stripped down and kept it on the rest of the night.  In fact I had to take it off of her when she fell a sleep with it on.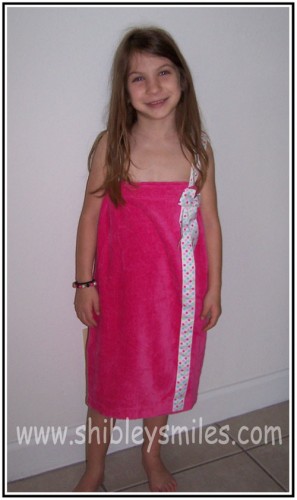 Just had to share my awesome purchases/winnings with you, and of course my cute model who graciously modeled the bath robe for everyone.  If you were thinking about that pillow I highly recommend it.