UPDATED ADDITIONAL DAILY ENTRY

Tweet this Daily for one extra entry per day:

Enter to #WIN a Week's Family Vacation #giveaway http://bit.ly/j0N3PH

From the invention of the Aerobie Pro in 1984 to our first listing in the Guinness Book of World Records in 1986 to the introduction of Squidgies and footballs in the 1990s to the latest world record of 2003, the history of the Aerobie brand is rich and plentiful. Over the past two decades, Aerobie has been featured in dozens of national publications, ranging from the New York Times to Scientific American to Scholastic News to Elle Magazine.
I thought frisbee's were a dying toy, in fact I didn't even think my children had much interest in them.  Ironically enough just a few days after I was asked to review the Aerobie Pro Ring my boys kept asking me to purchase them a frisbee.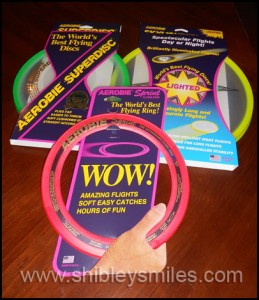 We received the Aerobie Pro Ring, Aerobie Spring Ring, and the Aerobie Skylighter disc.
Aerobie® Pro Ring
* Spectacular flights – Guinness World Record for the farthest throw (1,333 feet / 406 meters)
* Patented high performance design manufactured to exacting standards
* Thrilling games of catch
* Soft rubber edges for comfortable catches
* Large 13 inch diameter size
Aerobie® Sprint Ring
* Flies twice as far as conventional discs
* Patented high performance design
* Perfect for backpacking
* Thrilling games of catch
* Compact 10 inch diameter size
Aerobie® Skylighter™
*Spectacular flights, day or night
* Powerful LEDs light the entire transluscent disc
* Amazing long and accurate flights
* Large 12 inch diameter for unequaled stability
* Cushioned rim for performance grip and soft catches
* Long life, replaceable batteries
The boys loved the Skylighter the best,  you can switch on the light and it blinks, which is great for frisbee flying in the night. If you plan on doing such frisbee flying of course. The boys have played with all three of the flyers and currently I've only been able to locate one.  This is the usual pattern with out door toys in our home. I bet the neighbor has a boat load of footballs, frisbees, and other flying objects!
Aerobie Sprint flying rings are 10″ diameter, lightweight flying rings that can fly for hundreds of feet, making for a truly spectacular game of catch. Stanford University engineering lecturer Alan Adler designed them for unique high performance design. They can turn an hour of exercise into an hour of fun for any group of kids. Sprint rings are great for kids aged 7 and up and come in three colors: red, yellow, and magenta. They have soft rubber edges for comfortable catches and are made in the USA.
***********Aerobie Sprint Flying Ring***********
To enter to win: Please tell me another outdoor game you or your children enjoy.
After you make the mandatory entry above, you will receive one entry for each item below (unless otherwise indicated). Please leave a separate comment for each entry.
*if you visit

Aerobie

and tell me another product you like

* if you comment on a non giveaway post – 1 entry for each comment limit of 5

*

if you tweet this giveaway (leave link to tweet) – 1 daily
#Win an Aerobie Spring Flying Ring @shibleysmiles #giveaway https://www.shibleysmiles.com/?p=4707
* if you tweet this daily (leave link to tweet) – 1 daily
Enter to #WIN a Week's Family Vacation #giveaway http://bit.ly/j0N3PH
See Shibley Smiles Official Rules. Giveaway will end on June 15th at 11:59 pm EST. Open to US and Canada Only.
Thank you and Good Luck!
---
Disclaimer: I received the above product(s) at no cost to me by the company or representing PR agency. Opinions are my own and NOT influenced by monetary compensation. You may read more of my disclosure here.
---