As an Amazon Associate I earn from qualifying purchases.



Basket Pong is a hybrid of basketball and the popular drinking game beer pong. Yes I said drinking game but that does not mean drinking is a necessity to play this game. When I received a press release describing this game I actually thought this could be something fun for my boys and husband to play together. Who doesn't love a little friendly competition. I thought the concept sounded unique and different and wanted to see what it was all about!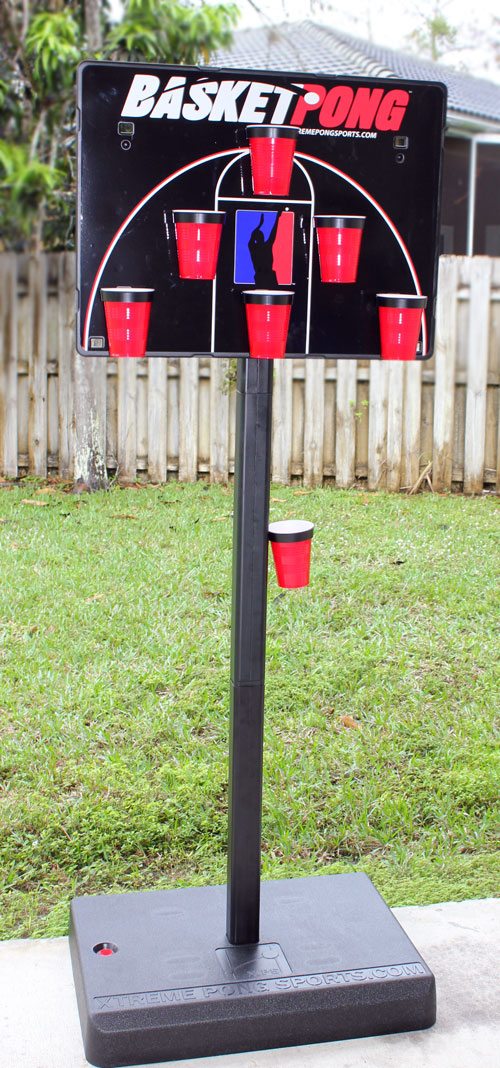 The Basket Pong game arrived in a smaller box then I expected. However it was very easy to set up. You must first put the sticker on the backboard. If you are setting up as a full basket ball game you will insert both pieces into the bottom to get the height. The rings that hold the cups simply click into place. Note: You will need to purchase your own cups.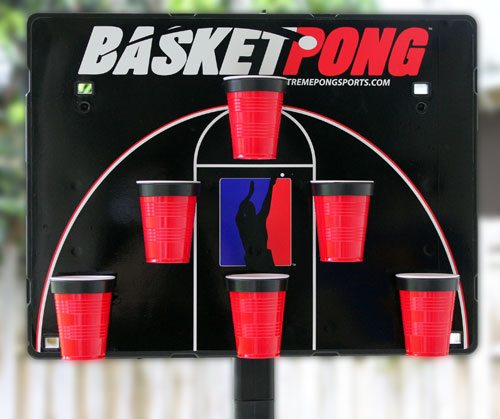 I was surprised to find out the Basket Pong game can be put together different ways to play different games. The description above is a half court game (if you purchase two units you can play full court), you can mount the board to your wall, you can use one tube and play table height, or just use the board and base to play table top (similar to beer pong).
The only thing I thought was strange was the directions on how to play did not come with the game itself. You must go online to find the rules if of course you wish to play by the official rules. I went online myself but honestly the rules were a little hard to understand. So instead a contacted my rep to get a better understanding. Playing half court these are the rules:
Once you have determined the order of players, the first person has two chances to shoot the ball. You can shoot at any cup on the board. There are three possible scenarios.
1.       If you are able to make both balls into two separate cups, both cups are removed and the player has two more chances to keep shooting. (This is what you are trying to do!)
2.       If the player shoots and makes both balls into the same cup, the cup is removed but their turn is over.
3.       If the player shoots and only makes one cup, the cup is removed but their turn is over.
*Each time a cup is made, you remove the cup with the ball from the backboard.
This is how the game continues until all of the cups are removed from the backboard. Whoever has made the most cups is the winner of the game. If there is a tie you have the chance to go into overtime. Use three cups for overtime.
The game can be played like beer pong with drinks in the cup as well, however since I purchased this as a " family" game you can imagine we did not give this a try. I also felt it was a good game to play on the back porch which means the balls often hit the ground. No one wants to drink anything that a dirty ball has made its way into.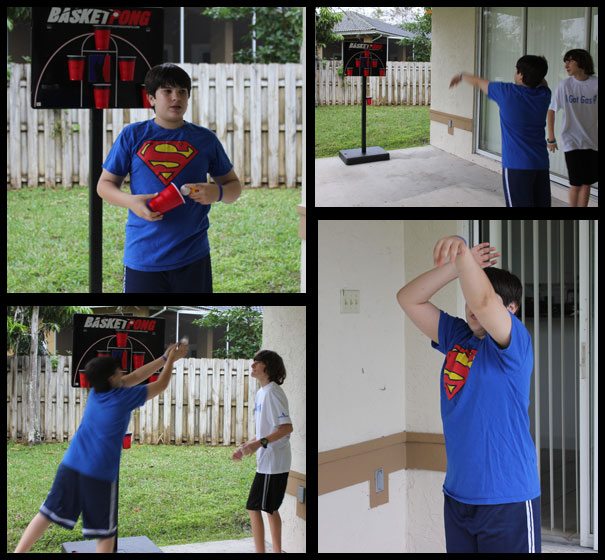 The base of the game also converts to become an easy traveling case handle and all so if you want to bring the game to a party or event you can easily dismantle it, pack it up and bring it with you.
Features:
Portable & lightweight design
Dedication to our customers
Nationwide College Circuit Tour
Unique image, selective sponsors
Comprehensive promotional strategy
Job & career opportunities for the ambitious
Quality assurance
Organized regional & national tournaments
Alternate games utilizing Basketpong apparatus
If your children are pretty active, you might find useful our article about choosing safe headphones for kids
---
Disclaimer: I received one Basket Pong to review. All opinions are my own. You may read more of my disclosure here.
---