As an Amazon Associate I earn from qualifying purchases.


I am a huge fan of technology, if you know me and have been reading my blog you will know that I'm a self professed tech geek, but sometimes it just makes me giggle. I don't frequent the ATM machine often my paycheck is direct deposit, I use my debit card often at stores, I rarely get cash or checks, so it is a rare occasion that I end up at the machine.
This past week I had a check to deposit.  I let my son help me out, you know that kid fascination with buttons.  As we were waiting for the machine to do its thing what pops up but….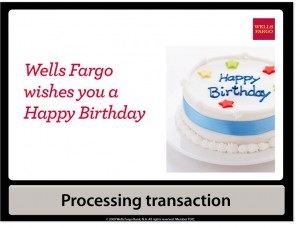 This isn't the exact image but you get the point.  It made me laugh that the ATM machine was wishing me a happy birthday!