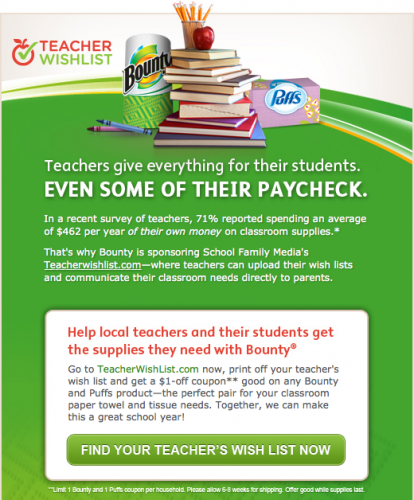 Bounty is encouraging you to full fill a teacher's wish or if you are a teacher create your own wishlist. Bounty launched TeacherWishList.com as a result of a survey that found teachers report spending on average of $462 out of their own pockets each year on supplies for their classroom. As the national presenting sponsor Bounty is fulfilling the wishlists of ten teachers each week through the end of September. Each teacher who creates a wish list is eligible for a $462 gift card, and for each school that has five teachers or more registered, that school will be entered for a chance at a $25,000 celebrity designed classroom makeover!
Go to TeacherWishList.com and print off your teacher's wishlist to receive a $1 coupon off of any Bounty and Puffs products!
I don't know about you but each year I get a long list of items my children need to bring on the first day of school. Part of me thinks man why do I have to buy all this stuff we didn't have to do this when I was in school. However then I realize if I don't help do my part the person that takes on the burden of these supplies is the teacher. Bounty's TeacherWishList.com is an awesome way to give back to your school and teacher. Encourage your friends and family to help full fill their list or let the teachers know about this awesome tool from Bounty. If each of us full filled even just one wish imagine the good we could do.
BOUNTY $25 AMEX GIFT CARD GIVEAWAY
See
Official Rules
. Giveaway will end on October 11th at 11:59 pm EST.
Open to US Only.
Thank you and Good Luck!
---
Disclaimer: I received the above product(s) at no cost to me by the company or representing PR agency. Opinions are my own and NOT influenced by monetary compensation. You may read more of my disclosure here.
---