As an Amazon Associate I earn from qualifying purchases.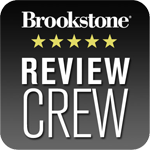 I have been so busy these days I have yet to get a chance to announce my new position. I am one of currently four Brookstone Review Crew members. I'm very excited about being chosen for this opportunity.  Thanks to Brookstone I am currently at BlogHer11′ in San Diego.
What this means is I will get the chance to review some of there awesome products sometimes before they even hit the shelves. In addition I will take part in hosting some fun twitter parties. That might now sound like a lot of fun for you but wait there is more! I will also be hosting some great Brookstone giveaways throughout the next year.
I wanted to publicly thank Brookstone for choosing me and Shibley Smiles as the right person and place to help launch some of their upcoming products to the public.  I look forward to a great year working together.
Hopefully I will come back from BlogHer11′ with some great advice, awesome photos, funny stories, and yes we have to at least mention the to die for SWAG!
Thank you to all my loyal readers for helping me grow and rise to a level of earning such wonderful opportunities.