As an Amazon Associate I earn from qualifying purchases.


4th of July has always been one of my favorite holidays. I love the feeling of patriotism in the air. I enjoy driving down to our local park to set up to enjoy the amazing fireworks display. Here in South Florida we are smack dab in the middle of a scorching summer. The sun is shining, the temperatures are H-O-T, and the humidity is high. This doesn't stop us from enjoying a day with family outside. You will find us lounging by the pool playing basketball, listening to great tunes, and enjoying good food. Great food like a family favorite these 4th of July Cheesecake Bars.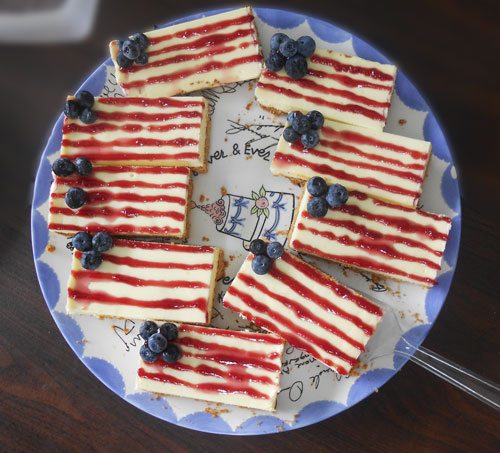 I think we will enjoy the traditional 4th of July goodies like hamburgers and hotdogs on the grill. I may even through in some summer sausage just to mix things up a little. With these and our other favorites like  Honey's Baked Beans, chips, and our favorite Capri Sun our party is sure to be hit with both the children and adults. When the summer hits the kids spend a lot of time outside. This means we stock our refrigerator with lots of drinks to keep them hydrated.
With five members of the family we have found that one refrigerator doesn't cut it. Thankfully we have a second fridge in the garage it is usually stocked with our favorite drinks. Often you can find the boys spending hours at the local park playing basketball with their friends. My daughter and her friends are tumbling outside and splashing around in the pool. One of the great things about Capri Sun is they are easy to grab and go and you can drink them just about anywhere!
With Capri Sun such an easy drink to grab and go you can pack it in your children's lunch when they head off to summer camp, pack a cooler for the next baseball game, or grab a box to take with you on your summer vacation. If you don't have a cooler and need to keep your Capri Sun cold until you are ready to enjoy them why not freeze them first!
Capri Sun Summer Staple