As an Amazon Associate I earn from qualifying purchases.


Update: 2/17/2012. Occasionally I like to update my reviews after using them for a longer length of time. It has almost been a year and I absolutely LOVE this paper towel holder. The amount of money I've saved by being able to cut my perfect size is much more then the cost of the product. If you are thinking about purchasing it I highly recommend it. Mine still works perfectly and can be quite the conversation piece when we have guest and they can't figure out how to work it LOL!
I love to review gadgets that are fun. Not necessarily things you need but things that are just fun or make life a little easier. So when I was asked to review the Clean Cut Paper Towel Dispenser I said yes send one to me and let me have a crack at it. I love electronic items, they just make life FUN!
The Clean Cut  is a automatic touchless paper towel dispenser.  Designed to allow you to use ANY paper towel brand or size. It mounts under your cabinet counters leaving you with more counter space. The box arrived and I set it aside until the weekend so hubby could help me install it. I then decided no need to wait I could do it myself. Turned out I was wrong, since it called for a drill bit and I had NO IDEA where the drill bits were or which one was 1/4 inch I had to get my hubby involved. The instructions were pretty straight forward and included directions for both cabinets with and without a lip. Since ours did not have a lip installation was pretty easy.
A template is included to help guide you to where to drill the holes. Find where you want to install it and tape the template underneath the cabinet. It is suggested not to drill into any cabinet walls as this could splinter the structure. You need to remove all items in the cabinet as you are drilling through your cabinets. You drill all four holes with the drill bit and them open your cabinets and drop the screws through the holes and screw into the dispenser.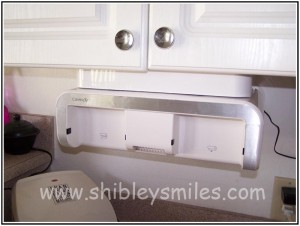 The Clean Cut Paper Towel Dispenser comes in white, black, and stainless steel. As you can see I chose white because it goes well with my kitchen and I think will fit in almost any kitchen. I LOVE that it frees up some counter space.
I'm sure above all you want to know "How good does it work?". Well let me tell you my story.  The first roll of paper towels I placed into the dispenser was the select-a-size paper towels and it seemed to work pretty good though it didn't seem to tear properly.  So next week I purchased the regular paper towels and found that it always tore at the perforation.  I'm thinking to myself well this sucks because one of the HUGE benefits of this gadget is the ability to tear off any size of paper towel needed, thus saving you money.
Well, can we say, read the directions! It wasn't actually until I sat down to write this review that we discovered the human malfunction.  My husband not knowing how to use it began to wave his hands in several different places, and said he had no problem getting the size he needed he just wasn't sure how he did it.  I happen to have found a video on Amazon and all I can say is "Here's Your Sign".  The instructions are plain in simple I just managed to totally skip one all together!
We were missing the last step that actually chops the paper where you dispensed it.  Once I found this important step I realized how much I really like this gadget and how I can definitely see us saving money by using only the amount of paper towel needed.  I've actually video tapped our use so you can see HOW to use it!
The way that The Clean Cut works is it uses two infrared sensor beams that allows you first to regulate the size of paper towel you need and then second to cut the paper at your desired length. All of this done without once touching the machine.  The touchless system cuts down on cross contamination since no germs are transferred to the paper towels.
What I love about this item is how it frees up my counter top giving me more room for cooking and baking. I also believe it is an economically sound product helping  save money by allowing me to use the size that I need thus needing to purchase less rolls of paper towels.
I didn't really find anything wrong with The Clean Cut once I learned how to properly use it.
It seems that not only was I impressed with The Clean Cut but Whoopi Goldberg enjoyed playing with in on an episode of The View.
Disclaimer: I received the item above for the purpose of reviewing. The above review is my honest opinion that I was in no way obligated to write. You may read more on my disclosure policy here.