As an Amazon Associate I earn from qualifying purchases.


Yes I admit it sometimes I'm a little crazy.  My husband would probably say I'm a LOT crazy.  You remember last Tuesday I mentioned it was Nicholas' Birthday? Well he begged and begged for a party, so we I decided to let him have some friends over to play outside and celebrate his birthday.
Saturday morning we got up and got ready to spend the day at the baseball field. Nick had to be there at 11:30 for photos with warm-up at 12:00 and the game at 1:00.  While my hubby took Nick down to get his photos I ran to the store to grab some ice and last minute party preparations. On top of the party we also had snack duty for the game so I had to grab those as well.
The game was better then our usual shut us down quickly with the mercy rule, however unfortunately for the team they still did not win.  Once the game was over we raced back home, I still had a little cleaning to do.  By 5:15 my backyard contained 18 boys and one little 5 year old girl.  Yes you read that right 18! Sixteen of the kids showed up for the party.  The party itself was great the stay outside and played football, baseball, kickball, pool, and ping pong. No one would stop to eat so I didn't grill out the hot dogs as planned.  They did manage to finish 9 2-liter soda's in a mater of hours and 4 bags of potato chips.  Nick LOVED his cake!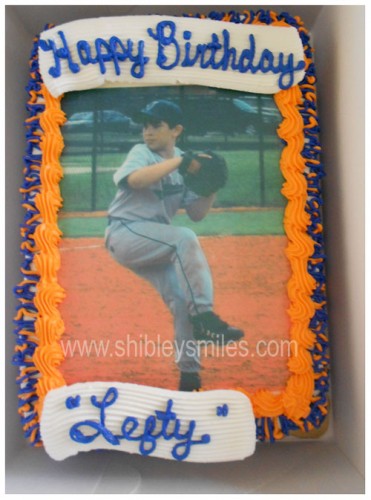 That wasn't so much the crazy part as the fact that I allowed Nick to invite 8 of the boys to spend the night. Originally it was going to be 5-6 boys.  However then he wanted to only invite one of the neighbor brothers and having had the issue with one brother being invited in not the other and since he played with both of them all the time I told him to invite them both but I would count that as one child.  Then one of the boys that he invited was not going to make it due to a camping trip so he invited someone in his place but I guess the camping trip fell through as he ended up making it.
So we went to bed with 9 boys all trying to find the best place to sleep in our living room. (one of them changed their mind about sleeping over)  I did blow up two air mattresses for them so there was the sofa, love seat, and the boys twin beds.  Needless to say between midnight and 4:30 I was up several times reminding them it really was bed time and they were a little load.  Thankfully for me our room is on the other side of the house, my mother-in-law was not so lucky.  When I woke up in the morning I found three of them in the living room and the other 6 in the bedroom. Two on each bed and the rest of the floor. Not one of them were on the two queen size air mattresses I blew up.
Despite the threats from my husband that "if I ever had a brilliant idea like this again", and the excitement as the 11th hour grew closer when the boys were to go home I'm excited for my son that he had such a great turn out and had a wonderful time. However he actually agreed with me that TOO MANY people spent the night LOL!