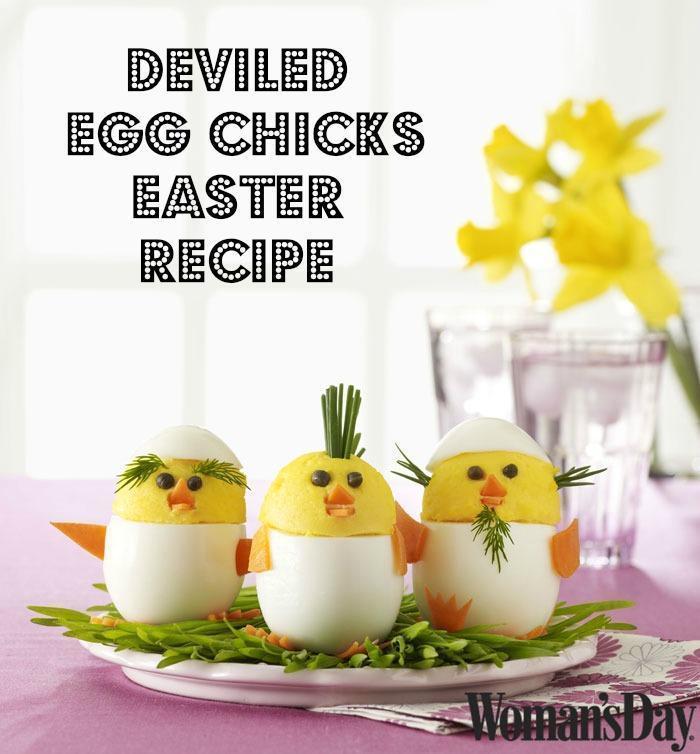 Deviled Egg Chicks Easter Recipe
Looking for a little fun Easter recipe for your Easter party? Check out these cute Deviled Egg Chicks Easter Recipe !
Deviled Egg Chicks Easter Recipe
Ingredients
12 large eggs
¼ cup plus 2 Tbsp mayonnaise
2 tsp fresh lemon juice
2 tsp Dijon mustard
Kosher salt and pepper
1 large carrot, very small capers, fresh dill and chives, for decorating
Instructions
Place the eggs in a large saucepan, add enough cold water to just cover and bring to a boil. Remove from heat, cover the pan and let stand for 11 minutes.
Drain the eggs and return them to the saucepan. Gently shake the pan to crack the eggs all over. Run under cold water to cool, then peel the eggs, discarding the shells.
Cut the top third off each egg and reserve. Carefully remove the yolks from the bottom two thirds, transfer to a small bowl and mash with the mayonnaise, lemon juice, mustard ¼ tsp salt and ⅛ tsp pepper. If necessary, slice a thin piece off the bottom of each egg white so they stand upright.
Using a 1-in. cookie scoop, scoop the yolk mixture onto the top of each egg white. Very thinly slice the carrot into strips, then cut into feet, wings and beak shapes. Use the capers for eyes and the herbs for beards, hair, and eyebrows, gently placing each in the yolk mixture to make a face. Use the reserved top third of the egg for a hat.
Make Easter a treat this year by turning the spring holiday to an all-day celebration! In the April issue of Woman's Day, now on newsstands nationwide, you'll find yummy recipes and fun crafts that will brighten up your festive Sunday. You'll learn how to make cute deviled egg chicks (just four easy steps!) and crazy woodland egg creatures for an egg-citing Easter hunt. Add some sweetness to your Easter brunch with delicious recipes like crispy cornflake French toast and mini olive oil and almond cakes. But don't settle for just bunch! Learn to make a zesty supper with orange-red pepper jelly glazed ham, and finish off with Easter themed carrot cupcakes. Plus, create hoppy place cards and your own garden centerpiece to add some color to your table. Step up your Easter day with creative décor and delicious recipes!