As an Amazon Associate I earn from qualifying purchases.


I just purchased my first ring candle from Diamond Candles and I can't wait for it to arrive. I love candles and it just sounds fun to find a surprise in your candle. I have been waiting patiently for them to come back in stock and received my own coupon to make a purchase today. I purchased the Hawaiian Coconut candle because
To get your coupon code you simply need to click on the link above or the photo below. You then need to "like" their Facebook page and a code will appear for you to use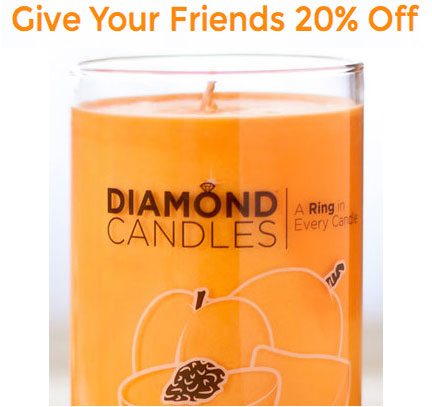 If you have heard of the Diamond Candles (specifically the ring candles) here is a little introduction.
We are so glad you are here! If you don't know much about us yet we have real rings worth $10, $100, $1,000, or $5,000 in all our full-sized ring candles.

The combination of highly fragrant premium quality soy candles, an exciting and fun 'ring reveal' experience (what ring will you find?), and a ring to wear for months and years to come means making something as boring as burning candles in your home something to look forward to.

Once you burn your candle down and find your ring, head over to facebook and upload a photo or video of you and your ring for everyone else to see! You can watch some 'ring reveal' videos, or go ahead and take the plunge and get your first soy candle!
Once my ring candle arrives I will let you know what we find!