S'Mores Pizza Squares with Golden Grahams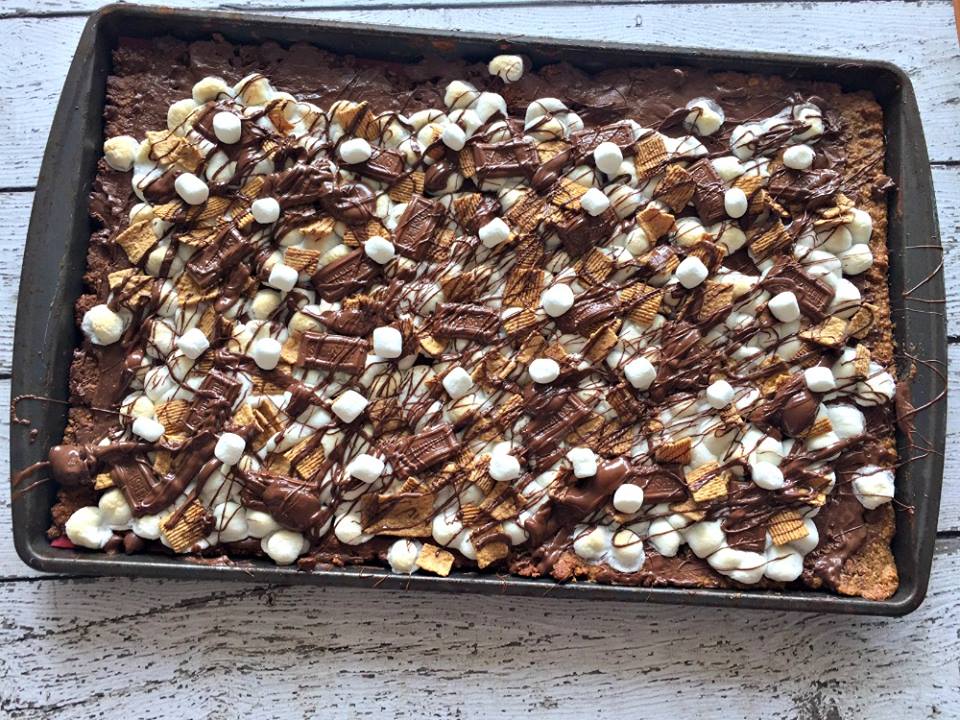 5½ cups Golden Grahams cereal
⅓ cup butter, melted
⅓ cup creamy almond butter
⅓ cup packed brown sugar
1 egg white
1¾ cups milk chocolate chips
2 cups miniature marshmallows
2 bars (1.55 oz each) milk chocolate candy, broken into pieces
Heat oven to 375ºF. Line 15x10x1-inch baking pan with cooking parchment paper, folding edges if necessary.
Using food processor, finely crush 5 cups of the cereal. In medium bowl, mix melted butter, almond butter, brown sugar, and egg white until well blended. Stir in crushed cereal until mixed well. Pour cereal mixture into pan; spread evenly, and press firmly against bottom of pan. Bake 11 minutes.
Sprinkle with 1½ cups of the chocolate chips, and return to oven for 1 minute. Remove from oven, and carefully spread melted chocolate chips on top of crust. Top with marshmallows, and return to oven for 2 to 3 minutes or until marshmallows begin to soften.Remove from oven, and top with remaining ½ cup cereal. Let cool 5 minutes, and top with chocolate candy bar pieces.
In small microwavable bowl, microwave remaining ¼ cup milk chocolate chips uncovered on High 45 to 55 seconds, stirring until smooth; drizzle melted chocolate on top. Using pizza cutter sprayed with cooking spray cute 5 rows by 3 rows.
Recipe by
Shibley Smiles
at https://www.shibleysmiles.com/smores-pizza-squares-recipe-golden-grahams/