As an Amazon Associate I earn from qualifying purchases.


Find out how to get automatic update to your contacts without lifting a finger below. This is a great tool for bloggers and small and large business people alike! I decided this year I wanted to send out Christmas cards to all the representatives I've worked with over the last year to let them know how much I enjoyed working with them. However this year I was so far behind in my normal Christmas chores I had no idea how I was going to order cards and compile all the addresses. So I started to see if there was way I could do this with ease. Even though I save all the emails from those I work with the thought of going through them to pull out addresses was just something I did not have time for. I was just about ready to give up and was on the verge of deciding it would be a 2014 year goal when some how when I was doing some Google searches I came upon Evercontact. I was intrigued because it said that it could do an automatic update of my contacts, but I wasn't really sure what that meant.
Automatic Contacts Update
Working silently in the background, Evercontact analyzes signatures in your email, and registers (and constantly updates) valuable contact details directly into your contacts. Working in the background, this application captures contact details in signature from new email you receive, such as: phone numbers, name, postal addresses, company, role, social media profiles
This definitely sounded promising for the upcoming year. I decided to sign up for the free trial to see how it worked. The free trial is a 30-Day trial of the Premium membership. Once I saw that it was working I decided that I would go ahead and sign up for the premium membership. This would save me a lot of time when it came to sending out cards next year. But wait when I went to sign up they had something called Flashback!
Evercontact Automatic Update Flashback Option
Flashback analyzes your email for email signatures and then pushes all of that valuable contact information (telephone numbers, company, role, social media, address etc) directly into your address book.

An average flashback analyzes 12,500 emails and yields 250 new or updated contacts
If your current address book doesn't fit your needs (too messy, out of date, too many duplicates…), you may consider trying a Jumbo Flashback (5-years back) to build a brand new address book from your email archives.
This was exactly what I needed! If this worked like it was suppose to it would mean I still had hope to get out Christmas cards this year. I went ahead and purchased a Premium membership (for a year) and it included a free one year Flashback. Once I purchased it I had to sit and wait for it to analyze all my emails. It said it would take approximately 48 hours. Mine took a little longer I think do to the timing of my purchase but it worked!
Flashback analyzed 2212 emails, found 1016 signatures for 246 different contacts and updated 224 contacts in your address book.
Sure enough when I looked in my contacts in my Gmail account everything was there right down to addresses, phone numbers, and even websites. I was concerned before I started this process if it was going to work for another reason. I use my personal Gmail account but I have my business email flow into this account so I can check them all in one place. I was able to add a secondary account to my Premium membership so that it would analyze both emails when trying to pull contact information. As a blogger who deals with many people on a daily basis and am often answering emails from my phone I rarely think about taking the time to create a contact. In fact as a blogger I try to find anything that can help me save on time. It is not easy working full time, raising a family, and blogging on the side. Evercontact has worked amazingly well and I think anyone blogger, personal, or another business that needs to keep contact information together in one place should give this a try. It is such a time saver I don't know why you wouldn't want too! Evercontact has been working create with my Gmail account but it works with other accounts as well such as: Outlook, Chrome, and, Salesforce. This is great for both small and large businesses. You can also change the settings to your liking. I decided that I wanted Evercontact to automatically update my contact information but you have full control and can request that you review information before it updates if you would like. Thanks to Evercontact I was able to populate a contact list and then select the people I wanted to send cards too and created a mail merge to create labels. The whole process was so easy I can't believe I didn't send out cards in years past! I'm excited to be giving away two premium memberships including a one year Flashback today.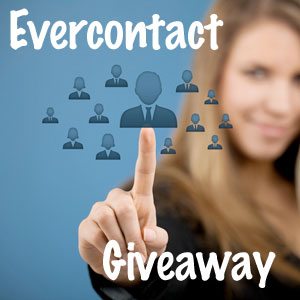 Sign up for a free trial of Evercontact Automatic Update to Contacts in the background while you do other work!