As an Amazon Associate I earn from qualifying purchases.


This past Wednesday we were fortunate enough to attend the Harlem Globetrotters game near us here in South Florida.  We had an AWESOME time.  I was a little worried that with it being a basketball game my daughter might be a little bored.  I think half of the fun was watching my little girl giggle with laughter.  She thoroughly enjoyed the show.  Between her and her brothers I don't know who enjoyed it more.
Our adventure began Wednesday night.  I worked through my lunch and took off an hour early so we could all eat some dinner and get our on our way.  The game was about 45 minutes away.  After a full day of school for my boys and a no nap day for my daughter this is what I found during our trip to the arena.
However once we got there both of them were full of energy and excited. Unfortunately we did not anticipate the traffic.  Don't ask me why we didn't but we did.  We didn't get into the arena until 7:15 which was 15 minutes pass the time the show/game was to begin.  We actually did make it before tip off but missed the opening act.  I managed to snap a few shots of everyone before the fun began.  Some of the photos are a little out of focus, but otherwise you can see the joy in their faces.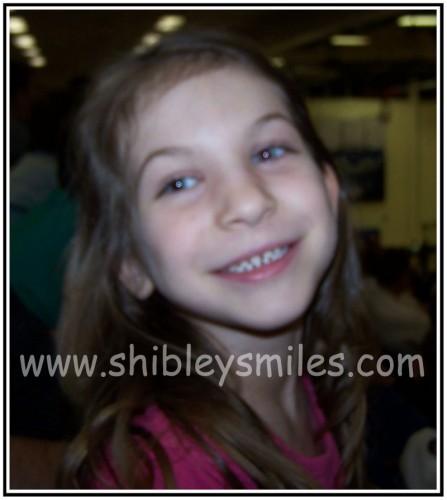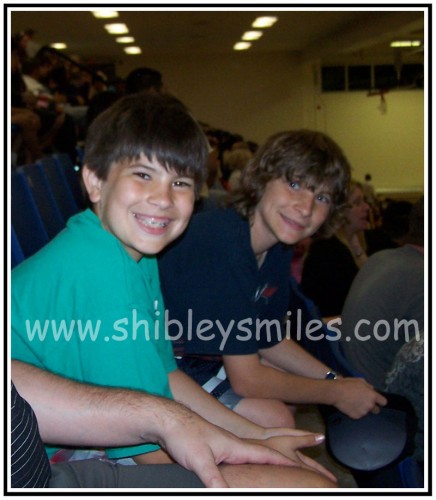 I keep saying show because really between the basketball playing the Harlem Globetrotters put on a great show.  The boys really enjoyed the tricks and high flying dunks no doubt.  Honey much preferred the skits they broke into in the middle of the game.  Her favorite was a skit by "Big G".  He is a blown up version of their mascot "Globie".  Controlled by a person inside the balloon like figure he would dance, run, jump, and fall down.  I agree it was one of the funniest skits and I was literally in tears watching him.  Another one of our favorites was the "Harlem Globetrotters NFL edition".  What made it so funny was these, I'm sure 7ft tall, players were balking like chickens, leaping through the air like ballerinas, and dancing to a rendition of "Thriller".  What took the cake was when they did it in rewind.  A noise came over the speakers with the sound of a tape rewinding and the players did the skit backwards, right down to the bodily function the came from the guy playing the center.  Honey though that was beyond hilarious.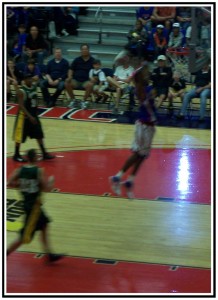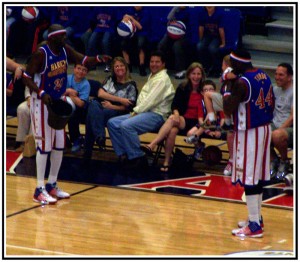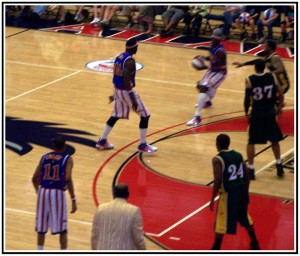 I know the photos aren't the best but we were at the top of the general admission section. I guess that is what happens when you don't figure in traffic. If I was going to go to a show again I would definitely spring for the tickets just below of the general admission. Now of course if I was really going to make it an adventure I would have LOVED to be court side. However the draw back to that is at any moment you could have been drawn into a skit. Definitely not my cup of tea.
The show lasted a good two hours and for the most part Honey enjoyed it. There were a few times when some basketball was being played and no skits were being performed that she became a little bored and tried to wreck a little havoc with her brothers. After the game they rope off the court and allow everyone to get autographs and photos. Nick did his best to get some photos of Special K which is who he seemed to like the best. Just as he got close enough for a photo his camera died. I wish we would have been a little more prepared and brought a shirt and sharpie for signatures. I managed to get a few photos of the team as we walked through the arena.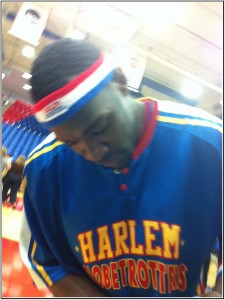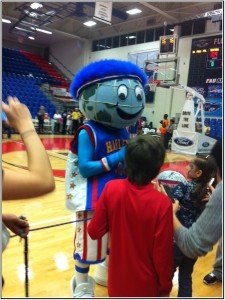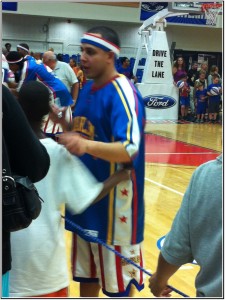 The show was definitely an A+ when it comes to family fun. Everyone enjoyed it including my husband. We all laughed and high fived. We booed the other team along with the audience and screamed with the Globetrotters made a basket. The best part of the night was watching the children laugh and having a great time. I would definitely recommend this as something the whole family can do and enjoy together.
If you would like to see if the Harlem Globetrotters are playing near you, you can visit their site and check out the: Harlem Globetrotters schedule.
Disclaimer: I received tickets to attend the Harlem Globetrotter game in my area.