As an Amazon Associate I earn from qualifying purchases.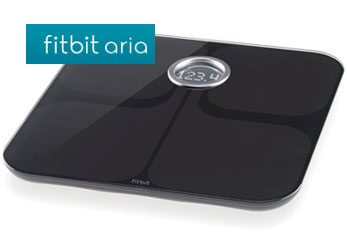 I can not wait for this scale to hit stores. Checking out the Brookstone site it appears to be ready to ship May 8th.  Fitbit is turning their product into a true full fitness tool with the addition of the Fitbit Aria Wi-Fi Smart Scale.
Your Fitbit Aria Wi-Fi  Smart Scale taps into your home wireless network to upload your information to your private account automatically each time you step on the scale.
Like any scale, Fitbit Aria measures your weight. But unlike most scales, Aria's glass surface contains electrodes that send a small, safe signal through your body to measure body impedance, giving you accurate data on your body's fat and lean mass.
Set up your Fitbit Aria scale wirelessly with just a few clicks. And why keep your favorite device to yourself? Invite up to seven other household members to set up an account. While you get better acquainted with your stats, the Fitbit Aria quickly gets to know all the people in your home. So each person can see their own stats on their separate Fitbit.com accounts.
I just received my Aria Smart Scale to preview before it even hits the stores so look for a review very soon! I'm so excited.