As an Amazon Associate I earn from qualifying purchases.


This post brought to you by Florida Orange Juice. All opinions are 100% mine.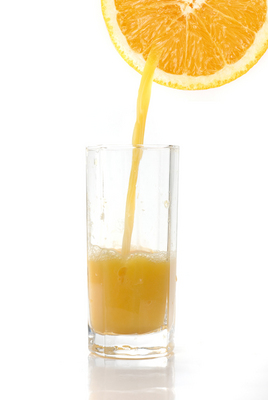 I am not a routine follower by any means. I don't do anything the same each day, from getting ready in the morning to what I eat. My husband is the total opposite. He is a very organized and structured person. You could almost set your clock on his routine. One thing he does everyone morning is prepare the same breakfast and take some time to check out the news on the computer.
His breakfast always consist of a glass of Florida Orange Juice. This is one of our weekly grocery cart items, as it is best fresh! On the weekend when I eat breakfast at home and splurge on my favorite breakfast, pancakes, I like to pair it with a glass of Florida orange juice as well.
Interesting facts about 100% Florida Orange Juice
One 8‐ounce serving of 100 percent orange juice is a good source of potassium and folate and an excellent source of vitamin C. These are three important nutrients that are under consumed in the United States, according to the Dietary Guidelines for Americans.
One serving of 100 percent orange juice is more nutrient dense than many commonly-consumed 100 percent fruit juices. A refreshing glass of 100 percent orange juice has no added sugars or artificial sweeteners, which may be found in many fruit juice cocktails and sports drinks.
A key recommendation of the Dietary Guidelines for Americans is to increase fruit intake. One 8-ounce glass of 100 percent orange juice provides half of the USDA-recommended daily fruit intake for most adults, based on a 2,000-calorie diet.
It is important to make healthy choices for you and your family as much as possible. We all know our children will be tempted on a daily basis when they are at school to much on cookies, chips, and other sugar filled goodies. Start their morning right by choosing Florida orange juice.
Nutrition Tips from Kathleen Zelman, MPH, RD
Jumpstart your morning with a nutritious meal that includes protein, fruit and energizing nutrient-dense carbs.

Think you don't have time for a complete breakfast? Blend your favorite fruit with 100 percent Florida orange juice and low-fat yogurt for a convenient, on-the-go smoothie.
Want to jazz up your weekend breakfast? Substitute 100 percent Florida orange juice for water in your pancake batter to give your meal a zesty, new taste.

When looking for a snack, think outside the box before trying to satisfy your cravings from roadside convenience stores or airport kiosks.

Plan ahead and take a cooler with portable, smart snacks that fit your on-the-go lifestyle like nuts, hummus with veggies, granola bars and 8-ounce cartons of 100 percent orange juice that will help give you the energy and nutrients you need to get through your travel day.

Outdoor grilling and dining is a great way for your family and friends to enjoy the warmer weather.

Protein is a vital part of your daily diet, as it provides nutrients and may help satisfy hunger longer than most fats or carbohydrates.
Choose leaner cuts of beef, pork, and poultry to grill and pair your protein with other nutrient-rich foods, such as high-fiber fruit, vegetables, whole grains and healthy fats. Add 100 percent Florida orange juice to marinades for poultry and pork for a refreshing citrus zing and pour a glass of 100 percent orange juice to accompany your meal.
Take a second and stop by Florida Orange Juice on Facebook and Florida Orange Juice on Pinterest