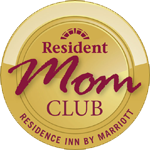 I'm honored to have been selected as a 2013 Resident Inn Mom. This means I get to review some of the beautiful hotels offered by Residence Inn by Marriott. With five members of the family going on vacation is not cheap. However I've learned over the years that a "cheap" motel is not the way to go when traveling. Your hotel accommodations can make or break your vacation. Especially with three children (or I guess one child, a teen, and tween) in tow.  The Shibley's have gotten spoiled when it comes to hotels. We often have to know book two rooms or a suite when we go on vacation because five of us in two double beds just doesn't cut it.
We have yet had a chance to try a Residence Inn but wanted to announce our participation and introduce you to a fun page on the Residence Inn Facebook page. That page is the Travel Mad Libs. Did you ever play Mad Libs as a child? Oh I use to LOVE Mad Libs. In fact I purchased a large Mad Lib books and some nights we will sit around the table and take turns filling them in and then laughing until our sides hurt when we read them out loud. If you don't remember what Mad Libs are let me refresh your memory or introduce you:
What is Mad Libs? (source Wikipedia)
A phrasal template word game where one player prompts another for a list of words to substitute for blanks in a story, usually with funny results. The game is frequently played as a party game or as a pastime.
Simply take turns around the table asking each player for what is needed: noun, verb, adjective, color, etc. When all the blanks are filled in you simply read the often hilarious story.
Residence Inn has introduced this fun game and we want you to play!
Check out my own fun Travel Mad Libs!
Please take a moment and follow Residence Inn below:
Residence Inn Facebook page: http://www.facebook.com/residenceinn
Residence Inn Twitter handle: @residenceinn
Even though I've yet to visit a Residence Inn by Marriott I couldn't wait any longer to giveaway a mini vacation to YOU! You have the chance to win a $250 Residence Inn gift card to help with your next vacation. Simply fill out the form below:
See Official Rules. Giveaway will end at 11:59 pm EST on the day announced above. Open to US Only.
Thank you and Good Luck!
---
Disclaimer: As part of the #RIMoms I am receiving complimentary hotel stays at a Residence Inn by Marriott. All opinions are my own. You may read more of my disclosure

here

.
---