As an Amazon Associate I earn from qualifying purchases.


You would think that with three kids the thought of another one in school would be no big deal.  As this school year comes to a close I'm already forced to think about registering my baby girl for Kindergarten.  As excited as I am for her, I am sad that my little girl is already starting school.  I still remember the day I found out I was unexpectedly pregnant, or the day she cried for the first time, the day she took  her first steps, right down to her last word.  With school of course comes the need for school uniforms.
Here is South Florida the children wear uniforms to school. Thankfully for us it is a loose uniform policy in which the children must wear navy, tan, or black slacks, shorts or skirts. They must be dressy type items not athletic or cargo styled clothes. Their tops can be any color as long as they are solid and are a polio shirt.
When I was approached by French Toast to do a review I didn't even hesitate to say yes. With two other children previously in uniforms I was very familiar with French Toast. In fact my only decision was whether to review items for Nick who is currently in 5th grade or Honey who is going into Kindergarten this August.  Since Nick was already half way through school and said he was not interested in any clothes I decided to get a few items for Honey. Next year Nick will be in middle school and their dress code is even less strict then elementary school.
Honey and I browsed the French Toast site to narrow down our choices based on what was in stock.  It really wasn't that tough because we liked quite a few items, so finding something we liked was not a problem at all. Narrowing it down to just a few choices was harder.  This was my first look into purchasing uniforms for a girl. The boys didn't care what I bought for them for school, nor did they have many choices with just shorts and tops.  However with girls you have skirts, dresses, and blouses to add into the mix.
The first thing I will tell you about French Toast School Uniforms is their quality. The quality of the uniforms is superb.  I've always loved the quality of the clothing when I've purchased it in the past. Considering your child is going to wear these clothes week after week quality is an important factor.  Honey's first choice of uniform to review was a dress. You can't see much of the style of the dress in this photo but it is adorable.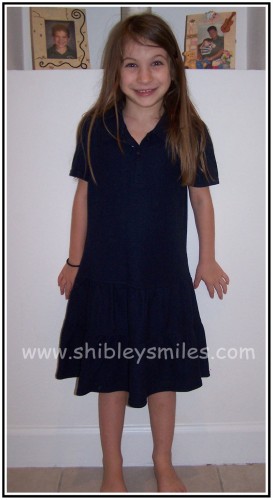 Just as important as quality is price. At least for this mom it is. I often find myself trying to balance quality and price. This cute little dress here is only $9.98. Definitely an A+ price in my book. I will more then likely order a few more before the new school  year gets here in August. French Toast has a variety of shorts, tops, dresses, and accessories.  Accessories such as belts, ties, hair accessories, tights, and socks.  Honey picked out this cute 6 pack pair of socks.  You wouldn't think socks would be such a tough decision but Honey is very picky about what her socks look like, of course when I can get her to wear them, she is such a Floridian.
Now as any girl or woman knows above quality and price is one and only one thing, STYLE! If the clothes don't have style it doesn't matter how well they are made or how much they cost.  It is hard to when it comes to
uniforms to distinguish yourself since you are forced to conform to certain clothes and colors.  However the French Toast clothes are distinguishable and stylish. One of the blouses that  Honey and I really loved was this Half Sleeve Ruffle blouse. Unfortunately for  us everyone else must have loved it because it was out of stock.  It is definitely on our list of items to purchase for school.  In addition to this cute blouse, that I was surprised Honey picked out due to the color as she is not a fan of white, her next favorite item was Belted Pleated Hem Scooter.  She looks absolutely adorable in it. The only thing that would have made it even better would have been adjustable waist bands. I'm forced to purchase bigger sizes for both her and her brother due to their long legs.   However with the belt I was able to cinch it tight enough to fit her perfectly.  I really think the light blue shirt she has would have looked really nice with the navy skirt but she insisted on wearing the purple one for the photo.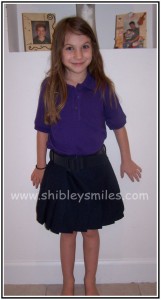 Overall we have nothing at all negative to review regarding French Toast School Uniforms. It is a perfect package quality, price, and style all wrapped up in one.  We were excited to have this chance to review these clothes for our readers.  We highly recommend French Toast when school shopping begins!
Disclaimer: I received the above product(s) free of cost to me by the company or representing PR agency. Opinions are my own and NOT influenced by monetary compensation. You may read more of my disclosure here.