As an Amazon Associate I earn from qualifying purchases.


This post brought to you by SCOPE. All opinions are 100% mine.
When you think of mouth wash what brand is the first one that comes to mind? For me it is none other then SCOPE. I enjoy using SCOPE as part of my daily routine. Not only that but I give it as a great "weight loss" tip. If you know you are not hungry and are just craving something you shouldn't eat, brush your teeth and use some mouth wash. Your mouth will feel so clean you won't want to eat!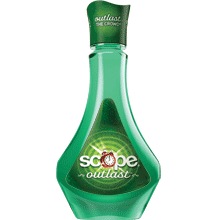 I don't usually do the "mint" thing unless it is a York Pepperment Patty but I tried the Scope Outlast and was pleased with the flavor. Per my recommendation above I'm taking a small bottle of this to work with me. I was thinking of purchasing the Dual-Blast because it will help if I eat any garlic or onion at lunch. Fresh breath & courage, 1 oz at a time!
SCOPE gives you the courage to live life up close and out loud.
• Choose from 3 tingling, refreshing fear (and bad breath germ)-destroying varieties: Outlast, Dual-Blast and Classic
• Outlast's cool refreshing sensation gives you a fresh feeling that lasts up to five times longer* *vs. brushing alone.
• Dual-Blast blasts away strong food odors like garlic and onion, and kills 98% of bad breath germs* *in lab tests
SCOPE Classic leaves your breath feeling clean, and you feeling confident enough to get close, while killing 99% of bad breath germs* *in lab tests
Mouthwash is something I also am trying to get my kids to use. My daughter has her own "bubblegum" flavored. I just love the clean feeling. You can pick up any of these SCOPE products at your local Walmart.