As an Amazon Associate I earn from qualifying purchases.


I rarely meet a person that hasn't been affected by the big "C" Cancer at some point in their lives. Unfortunately for some it is more then once. Breast Cancer effects 1 in 8 women. I have known of three women that have fought this battle. One of them was my grandmother.
My grandmother was diagnosis with breast cancer many many years ago, back when I was in middle school. This was a time when treatment was not nearly as advanced as it is today. I lived in Florida and my grandmother lived in Michigan. While I was told of the diagnosis it didn't really "hit" me as to what it meant.
In 1991 I received the news that really sank in. The call that my grandmother had lost her fight. I was younger at the time and can't tell you how long she fought I just remember the day vividly when my mother called me at a friends to tell me the news.
We lived in Florida, she was in Michigan and I was young so I was unable to attend her funeral. I loved my grandmother dearly and remember building forts in her living room. She would let my sister and I use her pots and pans and play house. She kept a drawer full of fun dress up clothes and fun crafts.
These are just some of the things I remember about visiting my grandmother in the summer months. She was loving and caring volunteering her time at the hospital, and always had a smile and hug when we visited.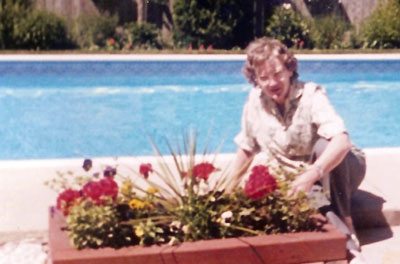 As most of you know October is Breast Cancer awareness month. I'm showing my support by including the pink ribbon up in my header for the entire month. Go Daddy cares and wants you to do your part to keep yourself aware with the "Check Your Headlights" program. It is easy quick and many times forgotten. Just a quick check in the shower or calendar reminder is all it takes.
Go Daddy NASCAR driver, Danica Patrick, promoted this program recently by driving in a bright pink racing car starting at the Dollar General 300 at the Charlotte Motor Speedway on October 12, 2012.
I love to see the pink support, from Danica's pink race car and football cleats, to pink ribbons and Facebook update status'. While every form of cancer is just as important to research and treat as the next any awareness is great. Here are some facts about breast cancer:
For women in the U.S., breast cancer death rates are higher than those for any other cancer, besides lung cancer.
In 2011, there were more than 2.6 million breast cancer survivors in the US.
Besides skin cancer, breast cancer is the most commonly diagnosed cancer among American women. Just under 30% of cancers in women are breast cancers.
In addition to Go Daddy's "Check Your Headlights" program they are giving you another way to support and save at the same time.
In support of strong women like you, Go Daddy is giving you 20% off your entire order with them. From domain registration to hosting and everything in between. Just use the coupon code STRENGTH at checkout to receive 20% off.
Not only is Go Daddy giving you a coupon for 20% off, but they are also giving the opportunity to donate to the National Breast Cancer Foundation with their Round Up For Charity program. For every order on GoDaddy.com, you can choose to round up to the next dollar, giving the difference to charity.
Have you or a loved one been affected by Breast Cancer? Share your store, let's support and give.
Just a reminder to "Check those Headlights"!
Go Daddy would love to know your tip for reminding yourself to check your headlights and is giving away a $500 shopping spree to one lucky person who also registers for their newsletter!
How to enter:
1) Leave a comment below, sharing how you remind yourself to check your headlights
2) When the contact form appears, complete three short fields to be entered to win the shopping spree
3) That's it! Don't forget Go Daddy is giving 20% off domains, websites & more with code STRENGTH
This is a sponsored conversation written by me on behalf of Go Daddy. The opinions and text are all mine. Official Sweepstakes Rules.