As an Amazon Associate I earn from qualifying purchases.


I mentioned last weekend Honey and I put together a fun Halloween craft Horror House we picked up at Michael's. While we were out we picked up a few other crafts that we found while searching for fun Halloween crafts. We've decided to do one Halloween craft each weekend. This weekend we made Mummy and Frankenstein Jars.
Halloween Mummy and Frankenstein Jars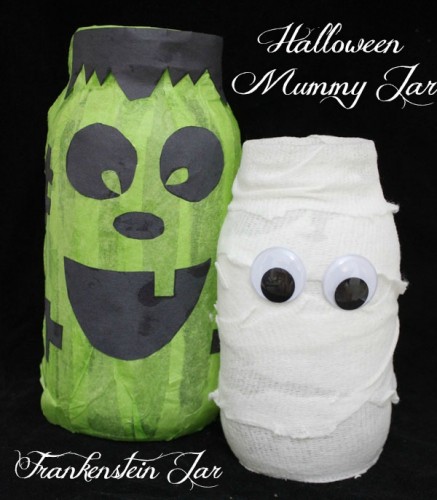 They are simple to make. I've seen instructions all over the internet.
Mummy Jar Instructions
Supplies
Gauze
Googly eyes
Mason jar
Mod Podge
Foam brush (or likeness)
Tea light
Instructions
You can purchase any size mason jar and googly eyes. We choose a medium jar and large eyes. Our gauze was think so we cut it in half to make smaller strips. Do not cut evenly just cut, it looks better if your gauze is frayed at the sides or uneven. Cover  the outside of your mason jar with mod podge and then wrap the gauze. Wrap it unevenly criss crossing like you would see on a real mummy. Then glue on googly eyes and put a tea light into your jar (see below for lighted version)
Frankenstein Instructions
Supplies
Green tissue paper
Black construction paper
Mason jar
Mod Podge
Foam brush (or likeness)
Tea light
Instructions
Cut the green tissue paper into 1-2 inch strips. Cover mason jar with mod podge. Glue green tissue paper to the outside of the jar. Cut out eyes, nose, mouth, bolts, hair, and car from black construction paper. Glue with mod podge to the covered mason jar. Then insert tea light.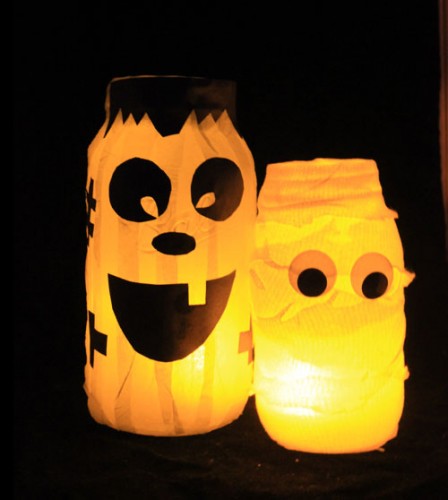 My daughter just loved how easy this craft was and how we were able to do it together. I took a small video showing you how the lights flicker and bring the jars to life.
For more inspiration I have pinned some fun crafts and Halloween ideas
All Halloween Pinterest Board